Thermaltake Pacific PR22-D5 Pump Reservoir with Silent Kit Review
Author:

Dennis Garcia
Published:
Tuesday, June 07, 2016

Included Hardare and Conclusion
The PR22-D5 comes with a variety of installation hardware including everything shown below. I would have liked to have a set of washers for the longer mounting screws but those are easily attained from the local hardware store.
It is suggested that the PR22-D5 be installed vertically for proper operation and using both the lower pump and upper res brackets will keep it from moving accidently.
In this review I took a rather detailed look at the Pacific PR22-D5 pump reservoir from Thermaltake. The concept of a pump res combo is quite old and in fact having the two located in close proximity is extremely important. This ensures your watercooling loop is properly bled as excess air in your loop will cause pump cavitation which is not only noisy but can damage the pump seals. Mounting the res directly on top of the pump just makes sense.
There are several aspects of a pump res combo to look for when making a purchase. The first is size and construction. Of course you will want something that is well made and something that will fit your build. The PR22-D5 is quite tall at over 12 inches and you will need room at the top for hose access. Which brings me to one of the issues I noticed during my testing.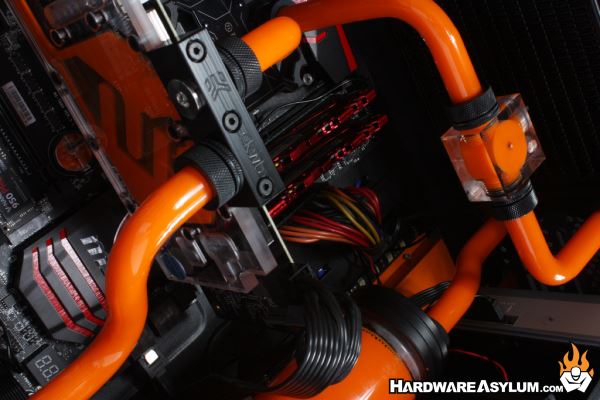 The top mounted return and fill ports look nice but made installation rather difficult. Personally I would have preferred a side mounted return and fill as that would have allowed a little more flexibility in where I mounted my components and the reservoir. With the ports as they are you are forced to have a direct down return or use a 90 degree fitting or funky looking bend to get water back into the reservoir.
As you can see I made it work.

The next aspect is fitting support. The PR22-D5 is threaded for the popular G 1/4 thread and will accept a wide variety of fittings from hardline to simple barbs. There are a total of three ports on the PR22-D5 leaving you just enough to support a standard serial cooling loop.
The final aspect is power and with the particular combo you have plenty. Themaltake has included the variable speed Laing D5 which not only allows you to dial in noise but also how fast the water circulates in the loop. Combine that with the Silent Kit pump mod and you have the makings of a super silent build with the option to tune your cooling loop to match your components.
Overall I am very pleased with the PR22-D5 it operated extremely well, bled quickly and ran extremely silent. The height of the PR22-D5 can be an issue with some builds so be sure to account for that when ordering parts.
Good Things
Silent Operation
Included Pump Mod (with silent kit)
High Flow Pump Top
High Capacity
Stylish Mounting Hardware
Bad Things
Needs washers in the install kit
Would prefer returns to be 90 degree (or an option to swap the tops)
Hardware Asylum Rating