Thermaltake Pacific RL280 Radiator Review
Author:

Dennis Garcia
Published:
Thursday, June 09, 2016

Introduction
When it comes to watercooling products people often forget the radiator and for good reason. Back in the early days radiators were "one size fits all" and if you needed more cooling you just added more. As the watercooling market matured so did the radiator options and what used to be a single 120mm x 25mm radiator quickly became 240mm, 360mm and even monster 560mm radiators supporting multiple fans and at a variety of thicknesses.
In this review I'll be taking a look at the Pacific RL280 radiator from Thermaltake. This is a dual 140mm radiator that comes packed full of technology to address many of the concerns users have with current radiator options.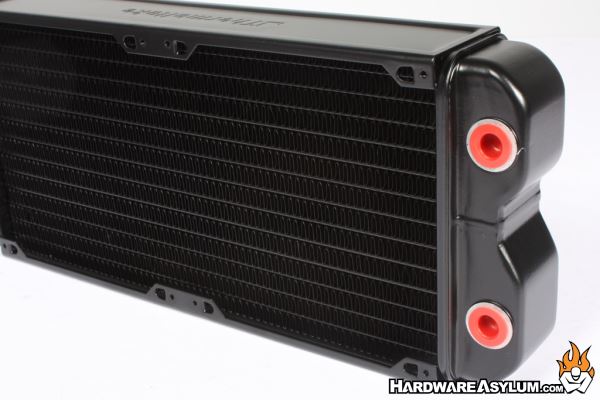 Specifications
Weight 735g
Material Anti-Corrosion Aluminum Alloy
FPI (Fin per inch) 13
Dimension 322.5 (L) x 140 (W) x 56 (H)
Flat Tube 13 set
Parts 3x Stopper
Much in this review will focus on the construction and the RL280 and how it compares with a similar radiator from a similar brand. Unlike with waterblocks testing the performance of a radiator is difficult at best with too many external factors to consider.
Size of a radiator will determine the type and number of fans you will need and the overall surface area will determine total heat transfer. There are some variances but generally speaking a single 120mm x 25mm radiator will dissipate about 250w of heat which is equal to a highly overclocked LGA 2011 or a single high-end video card.