Thermaltake Pacific RL280 Radiator Review
Author:

Dennis Garcia
Published:
Thursday, June 09, 2016

Conclusion
For a 280 Radiator the Pacific RL280 is quite thick at 56mm. Some of that is consumed by the airgap between where the fan mounts and the radiator surface but it can still create problems when trying to get the radiator mounted.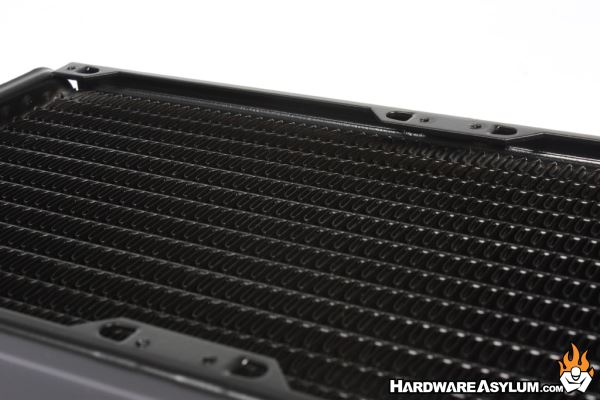 In our test build I used a Thermaltake Core V51 and wanted to mount the radiator at the front but, there physically wasn't enough room. It was decided to then move the radiator to the top which allowed it to be installed with some space left over for fans.
In terms of performance this loop has the potential to be very efficient. The large radiator coupled with the 300ml PR22-D5 gives us a good amount of thermal capacity both in total liquid volume and radiator surface area. As many of you know overall cooling performance is determined not only by the radiator but also the type and number of fans you are using. For instance using a fan on each side of the radiator tends to be more efficient than a single fan and high-pressure fans work better than standard case fans.
We will be using 140mm Riing fans in this build. I wouldn't say they are the best fan for a DIY watercooling install but they look good and will match the other fans which are already installed.
Good Things
High Flow Fin Design
Dual Port
Dual Row
Drain Built-In
Aluminum Construction
Bad Things
RL280 is thicker than expected