Thermaltake Pacific W2 CPU Water Block Review
Author:

Dennis Garcia
Published:
Tuesday, May 10, 2016

Introduction
Watercooling is one of the most popular activities in the enthusiast community. Most will watercool for aesthetics and Internet points while others may build elaborate loops for the thermal benefits. Whatever your reason your choice in components can have a profound impact on how everything works together and even how efficient the loop is.
In this review I'll be looking at the Pacific W2 CPU Water Block from Thermaltake. This block can be purchased from the TT Premium online store and is currently one of three CPU coolers they have available. The block is designed for fit all modern processor platforms with included hardware for LGA 2011 and AMD. You will get LGA115x hardware installed from the factory.
The Pacific W2 waterblock features a very traditional design with a single inlet and outlet. The holes are G1/4" thread and will accept a wide variety of fittings and barbs depending on what your build requires. Pictured here are the hardline fittings from Thermaltake. These support 16mm OD tubing and are quite good.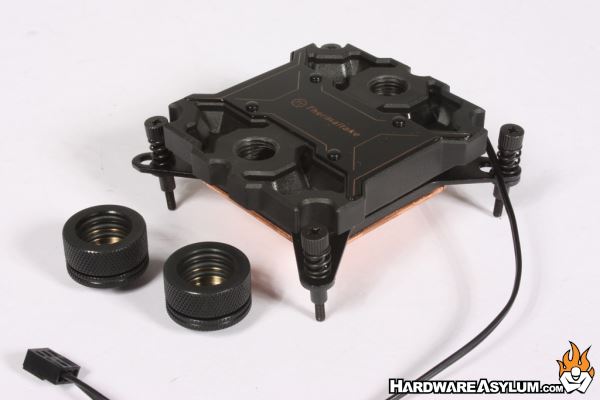 Between the barbs you'll find the location of the lighting effects. Thermaltake has included two colored filters used to change the lighting color. A total of four colors are attainable, Orange, Blue, Green and White if you remove the plastic filters. Despite this being the RGB LED lighting generation some things are just too cool for new school.
The Pacific W2 is based on two major components, the block top and the cold plate. Taking the block apart is an easy way to clean it and also gives us a look at how the internals are configured. O-rings are used on the sealing service along with a curious o-ring located in the center of the block.
Watercooling performance is based on two important factors, Surface Area and Pressure/Volume. These two factors rarely scale the same degree at the same time but together determine overall efficiency. For instance lower surface area and higher pressure may cool similar to a block with high surface area running at a lower pressure. For this reason many watercooling enthusiasts will ask about pressure drop since that will indicate how large of pump they need to keep the system cool, if they underestimate then overall performance will suffer.

The Thermaltake Pacific W2 features a machined micro fin cold plate. This is a fairly turbulent design leaving plenty of places for water to loiter and absorb heat. To help raise pressure over the CPU a small o-ring channel has been machined into the micro fin structure. Given that water tends to take the path of least resistance there will be a fair amount of leakage over the CPU core and you'll want a high flowing pump to compensate.