Thermaltake Pacific W2 CPU Water Block Review
Author:

Dennis Garcia
Published:
Tuesday, May 10, 2016

Waterblock Installation
The Pacific W2 comes with a very simple method for installing the waterblock that mimics most heatsinks on the market. Corner mounted screws. You will get hardware to install the block on all major CPU platforms including AMD using the extension plates and LGA 2011. Since I will be testing on LGA 2011 I needed to swap the mounting screws and was easier said than done.
You see the spring loaded screws are held in place with plastic washers with small friction fingers located on the inside. Getting them removed was difficult and required a screwdriver and pliers however once removed they slide right out.
Installing the LGA 2011 hardware should be a reverse of the process. Install the spring and drop the bolt into the mounting plate. Slide the plastic retainer up until it clicks on the shoulder machined into the bolt. As you may have noticed on the previous page I was able to get one bolt installed but after having the friction fingers break away I gave up on the other three.
At this point I went old school to get the block installed.
The first step is to always apply your favorite thermal paste. I prefer the 5 dot method placing 5 small dots of paste on the CPU. One drop will need to be in each corner about a 1/3rd the distance from the edge of the CPU to the center. The last drop will be in the direct center of the CPU. All should be about the same size and larger processors will require a little more than smaller ones.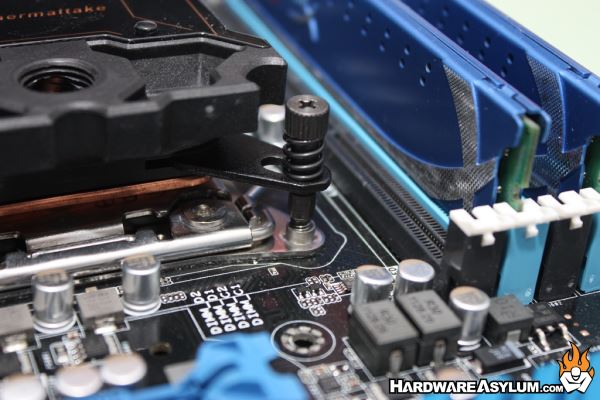 Next place the waterblock down on the CPU and line up the screws with the holes on the socket base or the back plate if you are using LGA 115x/AMD. At this point you will want to also orient the logo and barb locations to match your system.
Since I wasn't able to properly install the mounting bolts I just installed them by hand making sure to run them down progressively in an X pattern.
Once the threads stop you are done.