Thermaltake Toughliquid 360 ARGB AIO Watercooler Review
Author:

Dennis Garcia
Published:
Thursday, August 12, 2021

Toughliquid Layout and Features
Overall, the Toughliquid from Thermaltake doesn't look much different from any other 360 AIO. However, there are some rather unique features starting with the pumpblock.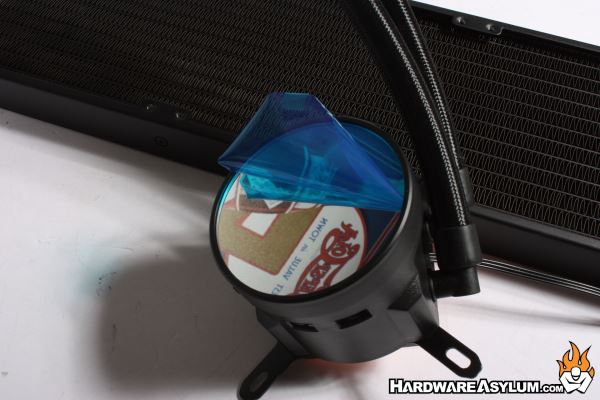 There is a protective film that you "should" remove which offers some protection to the mirrored plastic underneath. Much like other coolers using this feature the mirror hides a logo which is revealed when the ARGB lights are activated.
It should be noted that the top cover can be rotated so that the TT logo is always positioned how you want it. If you are OCD and want to proudly show it to all your friends you can make it perfectly straight. Or, if you really don't care and want to trigger your OCD friends for the extra social media likes then leave it slightly cocked to the left or completely upside down. Your OCD friends will hate you for it and your regular friends might call you an idiot. Either way it is a win-win for everyone.
There are two sets of cable connects that control the ARGB lights. The set on the right allows you to sync the cooler with your motherboard or any external ARGB controller. To the left is a white connector which will supply power to the lights. Around the opposite side of the pumpblock you will find three buttons that allow you to change the ARGB settings making the AIO pump block combo a cooler and ARGB controller in one.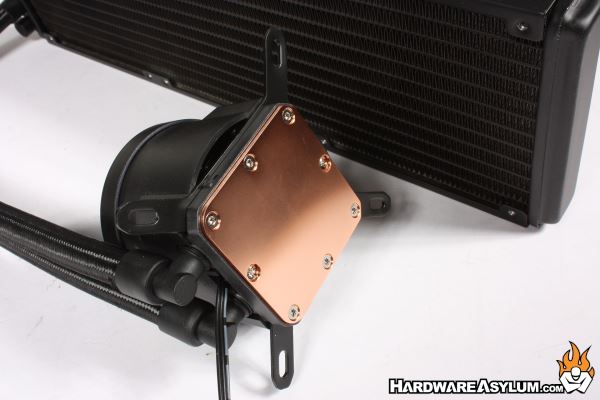 The base of the cooler is brushed copper with the standard surround of screws and the metal mounting plate can be swapped out for the AMD version by sliding it out of the housing.
While the pumpblock is the star of any AIO cooler the radiator is where the magic happens. This is a 360mm radiator supporting triple 120mm fans and features some rather large diameter hoses. The diameter can translate into more flow volume and also resists kinks allowing for tighter bends if your build requires it.
This next shot is through the radiator showing how open the fins are. To be honest this looks like every other standard, no frills, radiator and, for the most part there is absolutely nothing wrong with that. No special high-performance fan requirements and the extra space will allow for even more dust to accumulate before clogging.
Finally, we have the fans. These are a new design from Thermaltake called the Toughfan 12. They are a variable speed fan ranging from 500-2000rpm fan offering a noise level of 22.3 dB(A) and a max flow rate of 58.35 cfm.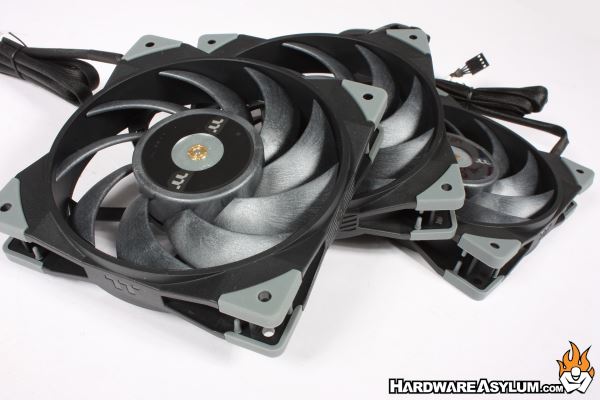 I have seen this design before and I cannot quite place it but, when it comes to me, I'll follow up with another article, and maybe a video, talking about the differences.