Gigabyte Aivia Osmium Gaming Keyboard Review
Gigabyte Aivia Osmium Gaming Keyboard Review
Author:

Dennis Garcia
Published:
Tuesday, July 24, 2012

Conclusion
Gaming keyboards aren't so much about typing anymore but rather centered on what they can do to help the gamer. Features like Cherry Red key switches and subsequent weight associated with the technology project a level of quality above what you get from an inexpensive membrane design. The added weight also ensures that your gaming station stays put in the middle of a massive firefight.

As you can imagine the typing aspect on a gaming system is incidental but knowing where the keys are is rather important, especially in low light situations. To address this Gigabyte has added a variable intensity backlighting system using one of the dials located near the macro keys.
For those of you who like to modify your keyboard layout Gigabyte has included four additional key caps and a tool to replace them. These keys can be placed anywhere on the keyboard and works quite well with the internal lighting system.

The backlighting and volume control dials are not normally found on keyboards and when they are, they tend to operate via software. The Osmium is different in that the dials, and macros, are processed by the keyboard and control the devices connected to it. Given that the macros are programmed and stored locally to the keyboard you can pick up the whole unit and run it on any system. Combine that with the ability to connect all of your personal gear directly to the keyboard are you are left with cleaner wiring behind your computer and easy portability for when you LAN or hit the CyberCafe.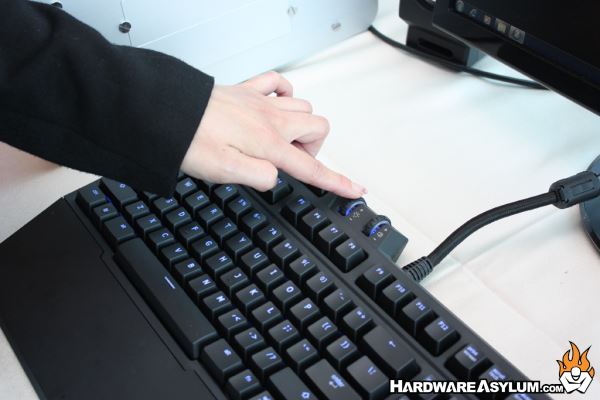 Overall I really enjoyed using this keyboard, the weight was perfect for my situations and the quality of the key presses was second to none. At the time of the review the Osmium was only available with Cherry Red switches. Mechanical keyboard aficionados are likely the only ones to complain as opinions on switch color can change wildly from one person to another.

I did find the profile switcher to be easy to use however since this is a single button press you must cycle thru the profiles to find the one you are after often times missing the color I was looking for.