AZIO Atom Ambidextrous Backlit Gaming Mouse Review
AZIO Atom Ambidextrous Backlit Gaming Mouse Review
Author:

Darren McCain
Published:
Tuesday, February 27, 2018

AZIO Atom Layout and Features
The Atom mouse may be a bit smaller but the shape has a comfortable ergo feel to it that doesn't feel lie the compromised shape may ambidextrous mice seem to have. At heart it's a pretty simple 5 button design with the option to enable the side buttons on the left or right sides. Button actuation is built around Huano switches with 20 million click life-cycle. You can even disable the sides completely if desired but sadly no option to use both sides is present.
An extra-large mouse wheel rounds out the options with a comfortable v shaped grip surface and clear feedback. It may seem simple but it was always easy to find and predictable in the heat of battle.
A lightly textured plastic AZIO calls a Grip-Enhanced Surface Texture provides pretty good grip with some side cuts to help with control. Thanks to the light weight I found even lifts easy to pull off.
A silver accent across the back reminds me of a car bumper but serves as a nice accent for the light effects that surround it. The lights also bleed out from all the cracks creating the subtle back light effect the Atom is named for. Unfortunately the effect is hard to capture in a picture!
A nicely braided black 6 ft. (1.8 m) braided cable with a gold plated end provides plenty of room for most installations and even ships with a branded Velcro cable tie for those of us that like to take our mouse on the go.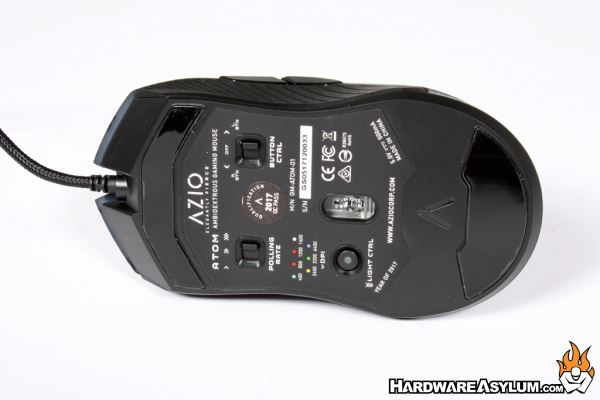 The heart of the Atom is Pixart's PMW3360 Optical sensor. The 3360 has been around for a while and is widely recognized as one of the most responsive sensors at lower DPI settings with no additional processing which makes it perfect for the 400-6400 DPI range built in. Pixel accuracy is fantastic with no need to jack things up to the crazy 12K+ dpi some mice are advertising.
Two switches select the Polling rate (125/500/1000Hz) and the button configuration. A colored Led helps to identify the DPI profiles changing color briefly to mark your selection: 400 = Cyan, 800 = Orange, 1200 = Red, 1600 = White, 2400 = Yellow, 3200 = Green and 6400 = Blue.