AZIO Atom Ambidextrous Backlit Gaming Mouse Review
AZIO Atom Ambidextrous Backlit Gaming Mouse Review
Author:

Darren McCain
Published:
Tuesday, February 27, 2018

Introduction
AZIO may be better known for their extensive line of keyboards these days but they also offer an ever expanding line of award winning peripherals. Today we will be taking a look at their first ambidextrous mouse; the AZIO Atom Ambidextrous Backlit Gaming Mouse.
Designed to be both light weight and versatile, the AZIO Atom is affordable, feature rich and entirely hardware based. This mouse isn't just for lefty's!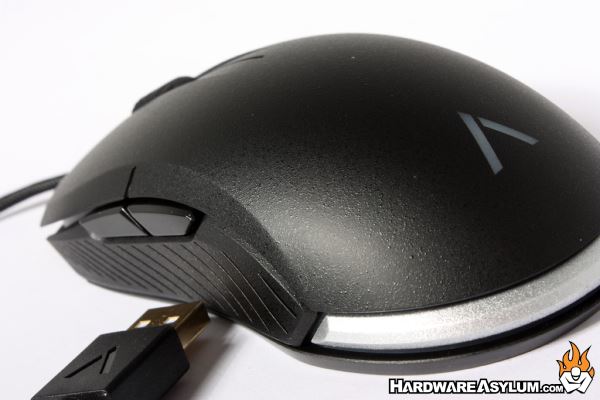 The Atom Gaming Mouse is a nice evolution from AZIO's earlier efforts with a 126.6 x 65.4 x 37.99 mm (~5 x 2.5 x 1.5 inch) footprint that makes it more of a medium size compared to our usual gaming offerings. It is also lighter weighing in at just 100 g (0.22 lbs) with no adjustable weight system. The length adds grip versatility with a palm or claw equally viable.
Currently the Atom is only offered in black with the silver ground effects bar to accent the back. Let's take a closer look at the specs.
Specifications
Model: GM-ATOM-01
Interface: USB
Sensor: Pixart PMW3360 Optical
CPI / DPI: 400 / 800 / 1200 / 1600 / 2400 / 3200 / 6400 dpi
Polling Rate: 3 Polling rates 125 / 500 / 1000Hz
Hand Orientation: Ambidextrous
OS support: Windows XP, Vista, 7, 8, 10
The name may be new to most but Azio is an industry leader in large font specialty keyboards. Founded in 2005, Azio is an acronym for "A to Z, Input-Output". Azio's Elegantly Fierce vision is to provide cutting edge products that are intuitively easy to use, provide maximum comfort and leave a minimal environmental footprint.