AZIO Atom Ambidextrous Backlit Gaming Mouse Review
AZIO Atom Ambidextrous Backlit Gaming Mouse Review
Author:

Darren McCain
Published:
Tuesday, February 27, 2018

GMP-XXL Extended Size Gaming Mouse Pad
Of course your mouse is only as good as your gaming surface. Fortunately AZIO sent along a massive Mouse pad just for the occasion. The GMP-XXL Extended Size Gaming Mouse Pad.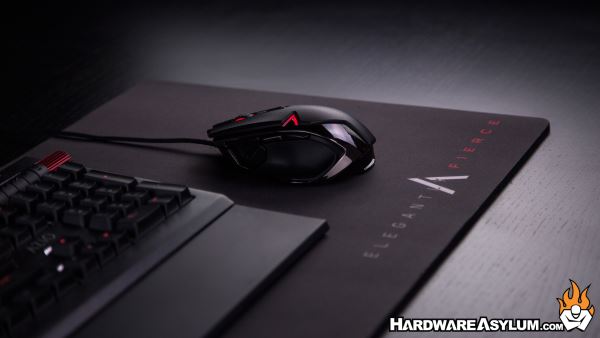 The GMP gaming mouse pad comes in two sizes: GMP (Large) and GMP-XXL (Extended Extra Large). At 13 x 14, the XXL extended mouse pad is large enough to fit your keyboard and mouse while protecting your desk. AZIO has done a nice job of extending the branding across all their gaming products.
Features
Nearly 3 feet of space (34"x14")
Silky smooth polyester fabric surface
Extra thickness (5mm)
Heavy duty anti-slip rubber base
The pads are thick black foam with a smooth fabric surface. Decoration is limited to tasteful branding in the top left and the Elegantly Fierce slogan in the bottom right. The 5mm thick rubber base grips firmly and never moved during even the most frantic gaming.
Our GMP-XXL came wrapped like a poster but lays flat without any bowing the first time. I did a simple water test and found the surface beaded briefly but overall is only slightly water resistant. I expect most accidents will wipe clean if not left to soak in.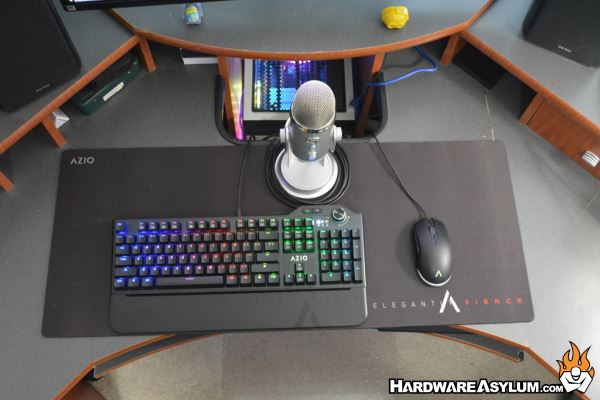 Large, desk size mouse pads are definitely a trend that makes me reexamine my desk choice! I love the look and feel of these full desk pads but they don't fit my current setup very well. If you have the space, this is definitely a nice luxury. I am also amazed at how small the price difference is between the standard GMP pad and the XXL version. Both tick in at under $20 MSRP.