Cherry G80-3000 MX Board Silent Keyboard Review
Cherry G80-3000 MX Board Silent Keyboard Review
Author:

Darren McCain
Published:
Wednesday, May 24, 2017

Introduction
These days it is pretty hard to talk enthusiast level keyboards without talking about the switches. And when it comes to mechanical switches most keyboards go with the industry leader, Cherry MX. However Cherry doesn't just make switches, they make keyboards too, like their own brand and everything.
Today we will be looking at the latest mechanical keyboard from Cherry, the Cherry G80-3000 MX Board Silent Keyboard. Not only is it our first Cherry keyboard, it is designed to showcase the latest in Cherry MX switches, the Cherry MX Silent Black.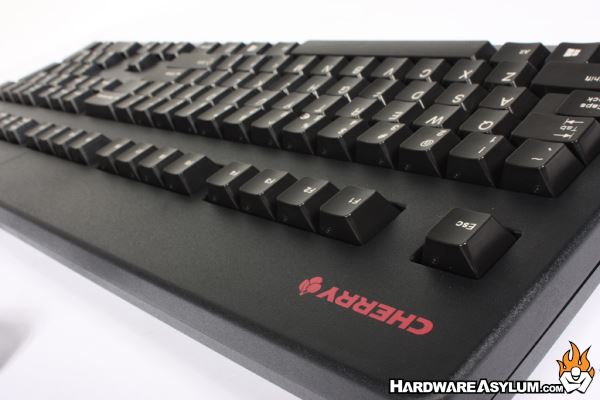 Cherry is offering the G80 in two exterior colors: black and grey. The grey does look pretty close to white in pictures and may match well with traditional Apple colors. Both of these models can be purchased with switch options Black or Red. Those happen to be two of the most popular Cherry MX switches on the market based on my not so scientific look at the most common offerings from major retailers. I have always been a smooth actuation fan myself and tend to favor the Browns or Blacks. Today we will be looking at a G80 with the Silent Black switches which is perfect for my taste.
Silent and Cherry MX together may sound like a tall order but this is not their first rodeo! Previously the Cherry MX Silent switches or keyswitches were a Corsair exclusive reserved for their Strafe keyboard line. These keyboards showed a demand for mechanical keyboards that were up to 30% quieter and the Cherry G80 takes this demand and combines it with a more traditional keyboard design.
Let's take a closer look.
Features
Mechanical Black or Red stem MX Silent keyswitches are rated at 50 million actuations to withstand harsh environments and ensure long product lifetime
Patented noise reduction using an integrated 2-component stem minimizes noise at top and bottom-out
N-Key rollover: Simultaneous operations of up to 14 keys without any ghosting effects
Self-cleaning contacts, dust and dirt resistant
Full QWERTY key layout in full-size 18.5″ form factor
USB 2.0 Interface or PS/2 with adapter
104 Keys
PC & MAC compatible over USB
Specifications
Interface: USB 2.0 (PS/2 via adapter)
Current Input: Typ. 15 mA
Connecting Cable: approx. 1.75 m
Weight: Approx. 935 g, 2.0 lbs
Dimensions: 470x195x44 mm, 18.5″x7.67″x1.73″
Packaging Dimensions: 495x255x50 mm, 19.48″x10″x1.96″
Storage Temperature: -20°C to 60°C
Operating Temperature: 0°C to 50°C
KeySwitch Technology: MX SILENT (Black or Red Available)
Service Life, Standard Key: >50 Million key operations
Inscription Technology: Laser
Inscription Layout: EU
Number of Keys: 104
Warranty: 2 Years
To many PC enthusiasts Cherry GmbH is synonymous with high end mechanical keyboards. Founded in 1953 in the basement of an Illinois restaurant, Cherry is an industry leader in the manufacture of industrial switches. Their MX and ML lines of switches have been the de facto standard in mechanical keyboards since their inception in the 1980's. Cherry makes switches for keyboards and mice, industrial switches and sensors, and performs contract manufacturing for a wide range of brands.