Cherry G80-3000 MX Board Silent Keyboard Review
Cherry G80-3000 MX Board Silent Keyboard Review
Author:

Darren McCain
Published:
Wednesday, May 24, 2017

Silent Keyboard Layout and Features Continued
If you have made it this far it's probably because of the Silent Cherry MX technology. Thanks to the no frills design, the G80 really depends on these new switch types to bring you onboard. Let's take a closer look at the Cherry MX Silent Blacks.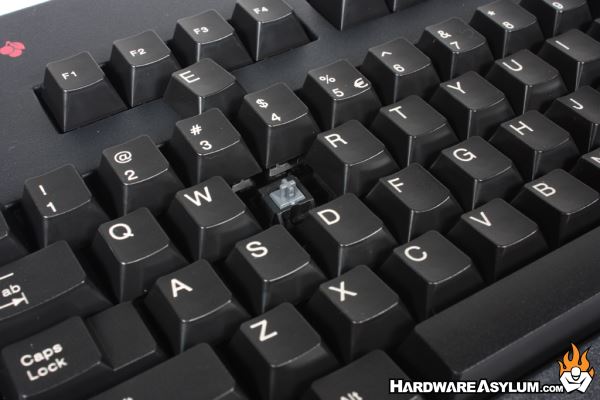 A quick look at the Cherry MX spec sheets shows us there are two different looks for the Silent switches. With the key cap removed you can see the G80 ships with a solid black housing and a grey actuator more reminiscent of the Cherry MX Grey switches. The RGB variant has a clear housing with a black actuator.
The Cherry MX Silent RGB Black Switch
Choosing your mechanical keyboard often boils down to identifying what type of Cherry MX switch you like the most. Blue tends to favor typists with a more tactile or "clicky" action. Blue can also make it harder to double tap but provides the most feedback in terms of touch. Reds require less force and tend to favor a softer touch which can also lead to accidental key presses but can be more responsive. Black switches are similar to reds but require more force to actuate the key. Black switches require 60 cN (centi-Newtons) of force to actuate, while the Red switches only requires 45cN. Browns tend to be a little bit of both. While they are less tactile, and less "clicky", they do have a feedback to them while still requiring less force than the reds. Green is a very rare switch type often referred to as a stiffer blue making its inclusion all the more notable. Green is both a tactile and a clicky switch often reserved for the space bar. You can both feel the tactile bump and hear the "click" that occurs when the activation point is hit.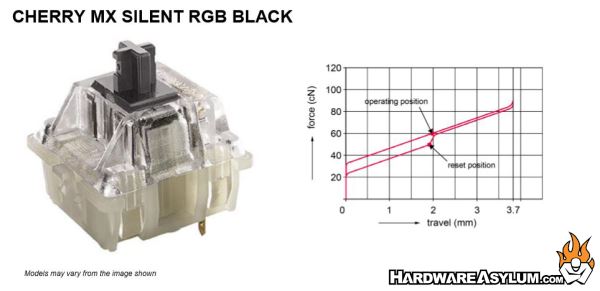 With the CHERRY MX Silent Black switch Cherry has taken one of the most popular switches and toned down the famous clicking. This silent version of the Cherry MX Black can be found in both the default variation found in our keyboard and in a RGB version pictured above featuring 16.7 million color variations.
The difference between a normal Black switch and the Silent variation is a rubber pad silencing pad inside the glass fiber reinforced base that softens the click of the keystroke bottom-out and top out noises. The end result is a sound that reminds me of a good membrane keyboard. The sound is there but it will no longer make you the office pariah!
Key Benefits
In addition to the standard benefits of the Cherry MX switch line, the Silent Black offers the following benefits:
RGB black switch: Without pressure point, linear actuation - easy switching function with a defined force of approx. 60 cN without contact feedback
Noise optimized MX-RGB keyswitch version optimized for use with SMD LEDs (RGB or single color)
The only solution from a single source: patented (patent pending) noise reduction with integrated 2-component stem and worldwide unique Gold Crosspoint contact technology
Minimizes bottom-out and top out noise.
Even illumination with optimized, transparent casing and scattering surface including lens. • Option to use all 16.7 million RGB colors in high luminosity (scope of supply does not include LED)
SMD LEDs directly mounted on the circuit board for cost-efficient, fully automated production
Noise reduction takes place in the glass-fiber reinforced base, regardless of 3rd party solutions on the keyswitch.
Precision "Made in Germany" with a short bounce time of < 5 ms
Self-cleaning contacts, resistant to dust and dirt • Over 50 million strokes per keyswitch without compromising on quality.
Long-lasting safe switching performance in the renowned "Original CHERRY quality" tried-and-tested a billion times over