Cooler Master CK721 65% Hybrid Wireless Gaming Keyboard Review
Cooler Master CK721 65% Hybrid Wireless Gaming Keyboard Review
Author:

Darren McCain
Published:
Tuesday, May 3, 2022

Keyboard Layout and Features
If you are not familiar with these 65% keyboards the size may surprise you. The CK721 measures in at 334 x 118 x 37 mm (about 13 x 4.65 x 1.5 inches) and weighs in at just 764g (~26.9 ounces). Surprisingly this is on the lighter side when it comes to mechincal keyboards in this category even with the added weight of the onboard battery!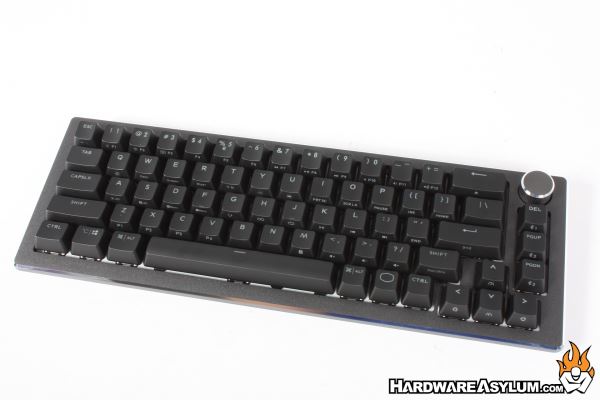 Perhaps the most striking design aspect found on the CK721 is the sandblasted Aluminum top surface. This top plate provides an extra layer of durability and can be removed for additional customization or maintenance. It's a little fiddly with a hidden switch holding it in place but no additional tools are needed to remove the panel.
Cooler Master hopes to have a line of customizable accessories available soon for the CK721. In addition to custom colors and patterns for the top plate you can expect different braded coiled cables and PBT keycap sets to help you make your keyboard match your personal preferences or even your custom builds.
Of course, moving to a true tenkeyless design involves some trickery to maintain the functionality of a full keyboard. A precision dial, or rotary encoder, acts as a three-way control to adjust volume, control your media or cycle through RGB options. The Cooler Master branded key acts as your FN key to unlock all of your most common software features without using the software suite.
Another nice touch is the included wrist rest. This heavy foam pad is branded with the same minimalistic Cooler Master logo and much larger than the ones have seen shipped with full-sized keyboards from most competitors.
Moving from a USB-C connected keyboard to Bluetooth 5.1 or 2.4 GHZ wireless is as easy as selecting the mode on the right side of the keyboard and connecting the included dongle, if needed.
The CK721 supports up to three simultaneously connected devices.
The dongle has its own storage slot found on the left-hand side of the keyboard allowing you to safely store it away when not needed. This slot also houses the little leaver used to unlock the top plate. I definitely recommend a quick read through of the included manual before attempting this as it does feel much more fragile that it really is.
Wired connectivity is handled by an included 1.8m (about 6 foot) USB Type C to Type A cable with a nice braided sleeve and a Velcro cable tie. I am always a fan of removable cables as it tends to remove the most common failure points of any wired device. However, I cannot give them too many bonus points as this is a wireless hybrid design!