Cooler Master CK721 65% Hybrid Wireless Gaming Keyboard Review
Cooler Master CK721 65% Hybrid Wireless Gaming Keyboard Review
Author:

Darren McCain
Published:
Tuesday, May 3, 2022

CK721 RGB and Conclusion
Space may be tight on a keyboard this size but the RGB effect rivals any I have seen. The CK721 offers per-key backlighting with support for 16.7 million colors.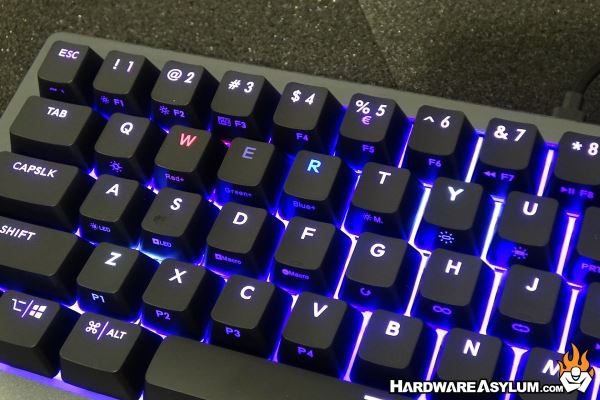 This is truly one of the brightest RGB solutions I have seen outside of designs with custom clear keycaps and easily draws attention from anyone entering the lab! I definitely look forward to seeing the upcoming custom options given how solid the Cooler Master CK721 base currently is.
Testing
I have been using the CK721 as my daily driver for a couple weeks now and find it easily balances the flair of a top gaming keyboard with the predictable reliability, I expect out of my busy work day. Playing many popular games that require easy access to certain keys like the Function keys does require some compromise but the ability to customize some keymapping is an easy workaround I did not expect.
I did try the 2.4 GHz connectivity using the supplied dongle and found connecting painless. Some may find a noticeable layer of delay when gaming but I was unable to identify any shortcomings at all. Even the battery life handled most of a week with the RGB on proud display!
The TTC keycaps are not as loud as comparable Cherry Reds and have a nice tactile feel to them. Getting used to the various function key short cuts comes with the 65% form factor and there is no industry standard. Yet I felt the CK721 was pretty intuitive and I love the three-way dial for its versatility.
Overall, I can easily recommend the Cooler Master's CK721 65% Hybrid Wireless Gaming Keyboard as an attractive and functional 65% design. The CK721 goes above and beyond similar designs by offering both wired and wireless functionality at a price normally reserved for simple wired designs.
Of course, using a 65% keyboard definitely requires some time to get used to, some key relocation and compromise are needed given that some critical keys have been moved from their normal location to make the size work. Fortunately, the Cooler Master handles these challenges better than most. If you are looking for a full featured gaming keyboard, or a solid wireless keyboard, or simply an attractive 65% keyboard that won't break your budget you have found it in the cooler Master CK721.
Good Things
Connectivity Options
Beautiful RGB
Great Tactile Feel
Multi-Function Dial
Future Customization Options
Bad Things
Software Suite Is Limited for Now
Switches Are Not Hot Swappable
Function Keys Are Not Easily Accessible for Gaming