Cooler Master CK721 65% Hybrid Wireless Gaming Keyboard Review
Cooler Master CK721 65% Hybrid Wireless Gaming Keyboard Review
Author:

Darren McCain
Published:
Tuesday, May 3, 2022

Introduction
There was a time when micro keyboards existed only on the periphery of the pc world. Today tenkeyless or TKL designs are rapidly gaining market share with 65% designs leading the charge. Today we will be looking at Cooler Master's CK721 65% Hybrid Wireless Gaming Keyboard.
The CK721 is not just a smaller form factor, it also a host of additional features including wired and wireless connectivity, mechanical keys, customizable cover and oodles of RGB.
Let's take a closer look!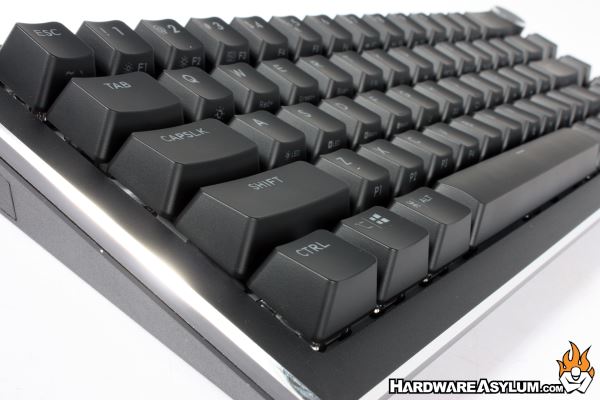 The Cooler Master CK721 featured in this review is the Space Gray color but, can also be found in an attractive Silver White. Keycap options from TTC include the linear Red (that we have), a more clicky Blue and a tactile Brown. TTC Switches are often marketed as an affordable alternative to the pricier keycaps like Cherry MX switches while still offering a solid mechanical feel.
On to the specifications!
Specifications
Product Number: CK-721-GKTR1/L1/M1
Keyboard Switch Type: TTC Mechanical Switch (Red/Blue/Brown)
Keyboard Keycaps: ABS Painting & Laser Engraved, OEM Profile
Keyboard Material: Aluminum, Plastic
Keyboard Color: Space Gray, Silver White
Keyboard LED Color: RGB, 16.7 million colors
Keyboard Polling Rate: 1000Hz (Wired/2.4GHz Mode), 125Hz (Bluetooth Mode)
Keyboard Response Time: 1ms (Wired/2.4GHz Mode), 8ms (Bluetooth Mode)
On-the-fly System: Yes
Keyboard Multimedia Key: Through Function Key (FN)
Connectivity: Wired, 2.4 GHz, Bluetooth 5.1
Charging: Support Wired charging
Battery: 2000mAh
Battery Life: 73hrs (LED Off)
Compatible OS: Windows 8+, Mac OS X 10.10+, Android, iOS
Software Support: Cooler Master MasterPlus+
Keyboard Cable: 1.8m, USB Type C to Type A, Detachable & Braided
Wrist rest: Cloth/SBR, 334 x 95 x 18 mm
Keyboard Dimensions (L x W x H):
- Standard: 334 x 118 x 37 mm / 13.15 x 4.65 x 1.46 inches
- With 1st stage feet open: 334 x 118 x 43 mm / 13.15 x 4.65 x 1.69 inches
- With 2nd stage feet open: 334 x 118 x 46 mm / 13.15 x 4.65 x 1.81 inches
Keyboard Weight: 764g / 1.68 lbs. (without Cable & Dongle)
Warranty: 2 years
Cooler Master has come a long way from their 1992 beginnings as a heat sink manufacturer. Today Cooler Master is an industry leader offering a wide range of Custom PC coolers, cases, peripherals and more. Odds are pretty good any custom built or boutique PC will have Cooler Master parts under the hood.