Cooler Master MasterKeys Lite L Keyboard and Mouse Combo Review
Cooler Master MasterKeys Lite L Keyboard and Mouse Combo Review
Author:

Darren McCain
Published:
Thursday, August 25, 2016

MasterKeys Lite L Mouse Layout and Features
Ok full disclosure time. I am pretty picky about my mice so I tend to be a bit harder on them. That said the MasterKeys Lite L mouse isn't bad. The shape is a slightly smaller version of the typical shape mouse often associated with a Logitech design.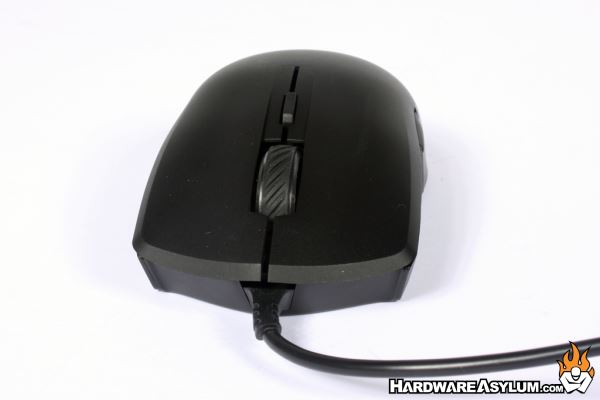 The shape is smooth and ambidextrous with a total of two light zones. A simple 1.8 meter rubber cable provides connectivity. The scroll wheel is good size and has a pleasing textured rubber surface. Tactile feedback is soft but noticeable and predictable.
Like the keyboard the included mouse functions without any software. This means that Cooler Master has a simple onboard control scheme for customization. The small button behind the scroll wheel provides on the fly DPI switching that is color coded for ease of use. Red provides 500 DPI, Blue 100 DPI, Purple 2000 DPI and White 3500 DPI. I found blue and purple the most useful in games but switching is not fast so you do need to plan ahead if you use more than one DPI in game.
The DPI switch also doubles as a mode button to give the other 4 switches (not including the scroll wheel) additional controls. You can toggle the lights, switch the effect, change the effect speed and change the color to one of the other preset colors. It does take some trial and error on some of the combinations.
Despite the ambidextrous design keys are only offered on the left side for thumb access making this more of a right handed grip mouse. The lack of a grip surface makes a claw or fingertip style less controlled targeting this mouse at a medium to small palm grip user.
The weight of the MasterKeys Lite L mouse is also worth noting. It weighs in at a trim 98 g and is NOT adjustable. The balance on three Teflon like feet is good but it felt a bit lighter than I would have liked out of the box. I use a 120g Roccat Kone XTD as my daily driver and the difference is huge. Usually the lighter mice tend to favor the fingertip or claw grips.
I also found the muted design of the logo odd as the simple design begs for a flashy graphic or accent to break up all the black. The position of the accent lighting make look simple but it does show well even when playing with a full grip. Some much more expensive mice could learn from this light placement.