Cooler Master MasterKeys Lite L Keyboard and Mouse Combo Review
Cooler Master MasterKeys Lite L Keyboard and Mouse Combo Review
Author:

Darren McCain
Published:
Thursday, August 25, 2016

MasterKeys Lite L Keyboard Layout and Features
Combination mice and keyboards have long targeted the entry level enthusiast as more advanced users tend to stick with individual purchases. Given that the target audience is likely upgrading from an OEM setup it makes a lot of sense to use a hybrid mem-chanical design. To sweeten the deal there is no required software making this a 100% self-contained solution.
The layout and look of the MasterKeys Lite L motherboard brings to mind much more expensive offerings from true mechanical keyboard lines. Compatibility with true Cherry MX key caps only reinforces this and offers a tantalizing hint at potential customization. I recently purchased a set of pink and white Royal Kludge keycaps for my daughter and the RGB color scheme of the MasterKeys Lite L makes it the perfect donor without breaking the bank.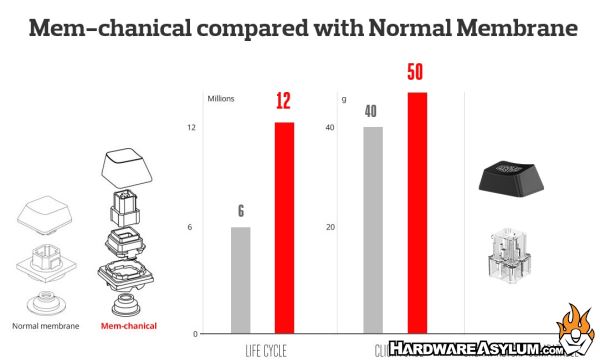 If you are reading this review chances are you are interested in knowing just exactly what a Mem-chanical keyboard is. In short it is a membrane keyswitch with an additional plastic support structure similar to a true mechanical key supporting it. This additional support provides a more predictable linear actuation and provides a tactile feedback similar to a Cherry MX key. Anti-ghosting up to 26 keys is also featured.
This is the same mem-chanical technology found in Cooler Masters popular Devastator II kit which I also own. It's my son's go to keyboard mostly due to the beautiful red lighting and a look and feel that reminds him of my more expensive setups. It also gives me some experience with these keys over time. After nearly a year of pretty abusive use the keys have quieted down a bit but continue to be responsive and crisp when gaming. It helps that membrane designs are inherently water resistant and the lighting still looks like day one.
The layout of the MasterKeys Lite L is a traditional 101 key setup with onboard media and lighting control. Build quality is solid with a surprising weight to it at 967g (2.13 Lbs). Media controls are located on the insert/delete block and on the fly controls in the function keys provide access to repeat rate/Windows and a full key lock.
Back light control is also offered in the function keys and is pretty easy to use. Effects included: Wave, breathing, scan, static and color cycle. There are 7 default colors to cycle through but you can also adjust the colors using a set of RGB keys. The keyboard has a total of 6 different lighting zones as shown in the pictures here. Not bad for a software free implementation.
I even found the orange a pretty good match for my system.