EpicGear DeFiant Mechanical Keyboard Set Review
EpicGear DeFiant Mechanical Keyboard Set Review
Author:

Dennis Garcia
Published:
Friday, December 16, 2016

Introduction
One of the oldest input devices for a modern computer has been the keyboard. First sampled from the typerwriter the computer keyboard is a way to translate human input into signals the computer can understand. If you get enough of them in the correct order you can create elaborate programs and scripts to make the computer do whatever you want. The interesting thing about keyboards is that while technological advancements have allowed us to do "more" with these devices they are still just a collection of switches.
In this review I'll be looking at a new gaming keyboard set from EpicGear called the DeFiant Mechanical Keyboard Set. The collection is centered on the new DeFiant gaming keyboard and built using a completely modular approach that allows you to attach gaming accessories and even modify the keyboard itself.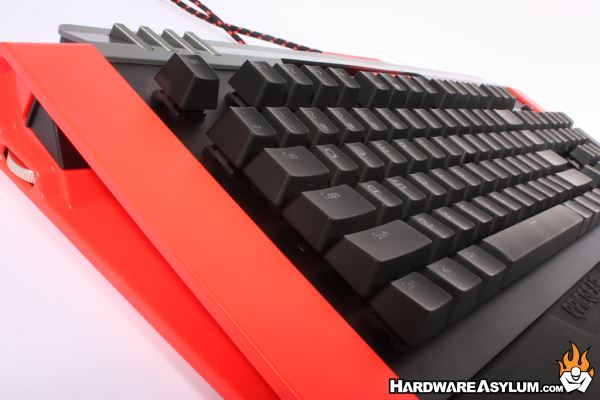 The DeFiant Mechanical Keyboard is very unique in that it is using their own brand of mechanical switches they call EG MMS. MMS or "Modular Matrix Structure" are hot-swappable modular key switches that can be physically removed, cleaned and replaced using the 2 in 1 pulling tool. This feature is an evolutionally step in mechanical keyboard design by finally allowing users to tweak and tune their keyboard to be exactly what they want.
Specifications
LED backlit with on-the-fly programmable per-key-lighting
EG MMS - Modular-matrix Structure mechanical keyswitches
1000Hz extreme-polling, adjustable 125/250/500/1000Hz
Fully programmable keys
Extreme anti-ghosting
N-key rollover: 10-key
System audio volume control wheel with one-touch mute
Dedicated GUI software with 4 customizable gaming profiles
Gaming mode option, Windows key deactivation
Gaming grade braided cables
Approx. dimension: 455x167x26 mm
Approx. weight: 1000g
2 year manufacture warranty
EG MMS Switch types:
EG Grey – linear
EG Orange – tactile
EG Purple – tactile & audible click
EG MMS Switches Specifications:
EG MMS - Modular-matrix Structure mechanical switches
Actuation Force: 50g
Actuation Point: 1.5±0.2mm
Bottom Travel: 4mm
Life Span: 70-million keystrokes
High-strength alloy contact plates
Double-blade contact points, patented
Dual-cross contacting area, patented
30µ gold plated contacting area