EpicGear DeFiant Mechanical Keyboard Set Review
EpicGear DeFiant Mechanical Keyboard Set Review
Author:

Dennis Garcia
Published:
Friday, December 16, 2016

DeFiant Mechanical Keyboard Set Up Close
The keyboard set includes the following items
Assassian Case, this is a formed soft shell carry case designed to fit the EpicGear DeFiant mechanical keyboard and a variety of accessories. As the photo shows the keyboard fits nicely on the hard foam base and is held there with the soft foam top.
There is ample room under the keyboard to hold the rest of the accessories along with a pouch for extra cables, cheat codes, keyboard tool and LAN party documents.
The kit also includes a pair of side stands used to prop the keyboard up and give you an extra set of carry handles for easily moving the keyboard around. These stands are a very bright orange and almost seem out of place considering how dark the rest of the accessories are.
A wrist guard is also included. This is a flexible rubber part that is form fitted to the bottom edge of the DeFiant keyboard but in no way attaches to the keyboard.
An important feature of the DeFiant keyboard is the ability to attach "modules" to the keyboard that expand how it can be used. One such module is the Rear-Mount Bumper. This accessory is a multi media control extension and is available in three versions. The first, included with our kit, is a standard USB 3.0 port with a long braided cable that connects to your computer. Other versions include the same USB 3.0 and add analog audio while the third includes everything and a USB 3.0 hub and Type-C connection.
This accessory attaches to the top of the keyboard and allows you to bundle the cable with the existing USB cable.
The final included accessory is a pack of colored light bars. I'll go over how to use these later in the review. Suffice it to say they play an interesting role in how the keyboard is customized.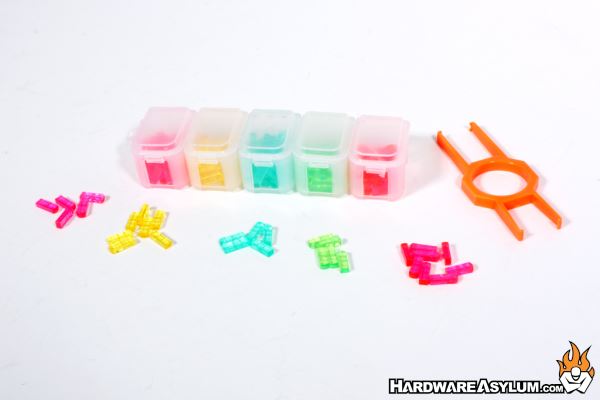 You will get 5 sets of color bars consisting of 45 bars for each color. Pink, Yellow, Blue, Green and Red are selectable along with White if you consider the default.