EpicGear DeFiant Mechanical Keyboard Set Review
EpicGear DeFiant Mechanical Keyboard Set Review
Author:

Dennis Garcia
Published:
Friday, December 16, 2016

Testing - Lights and Switches
At first I figured this review would be about another standard IBM 101 (or 105) key gaming mechanical keyboard with programmable macros and LED lighting effects. In a way I was correct with the exception that this keyboard was designed for people who want more from their gaming experience, for instance those who have a keyswitch preference and might even have two different keyboards for the type of work they are planning to do.
For instance a silent key for writing college papers and a clicky blue for throwing down on the campus LAN where they need feedback to ensure they pressed the key completely. With the EG MMS you can combine both of those situations into a single keyboard, at least to a certain extent.
In this review I looked at the EpicGear DeFiant Mechanical Keyboard Set. This set consists of an Assassin soft carrying case, DeFiant Mechanical Keyboard, Light Bars (in 5 colors), Wrist Rest, 2x Side Stands and a Rear-Mount Bumper. While you can buy all of these accessories separately having them in a complete kit gives you a good base to build your perfect keyboard from.
Testing
While a keyboard review wouldn't be complete without a full testing and feedback section I found myself tinkering more than actually using the keyboard. You see I was intrigued with the EG MMS swappable keyswitch system so much that I obtained the EG MMS Mechanical Switch 24-pack and found myself mixing and matching switch types to create the perfect gamepad. For this I started by swapping out some of the purple keys for orange and changed the filter color to green.
The DeFiant comes with 9 hardware based lighting modes that include Fully-lit with a press per key off, a Blackout with a press per key on, Breathing light, Fully lit and completely off. The four remaining modes allow you to create custom lighting modes so you can highlight keyboard mappings for certain games or create custom patterns to impress your friends. It even comes with an AFK mode that will do a splash effect whenever you aren't using the keyboard.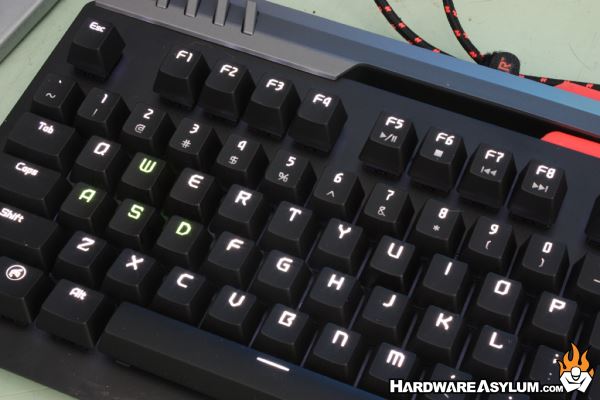 For my testing I created two modes, one to highlight the home row while the second just highlights the WASD keypad. Here you can see the effect the green filters have which is pretty impressive. The only thing that seemed strange was actually typing on the keyboard after I swapped out a few keyswitches. By default the DeFiant comes with EG Purple which are Tactile and Clickly and if I was typing "AND" I would get silence and two click sounds.
Considering I write a lot this became noticeable however while gaming in my favorite FPS I liked the silence for walking around and noticeable sound when interacting in the game.
There is some software to further customize the EpicGear DeFiant which can be downloaded from their website. The software allows you to program macros and configure the AFK lighting mode across four different profiles. Of course if you're into the whole brevity thing the hardware controls are all you need.