EpicGear Morpha X Modular Gaming Mouse Review
EpicGear Morpha X Modular Gaming Mouse Review
Author:

Dennis Garcia
Published:
Friday, March 17, 2017

Introduction
With the wide range of gaming peripherals on the market it can be difficult to find the product that is right for you and how you want to work. For instance gaming keyboards are often defined by their keyswitch and classified by features. Mice are a little different in that there is no clear defining feature. Some users buy them based on the sensor used while others find the shape to be the most important. For me it is a draw between shape and weight, I loathe lightweight mice and prefer a more contoured feel given my tendency to do the finger squeeze over claw and palm grips.
What if you could tweak and tune your mouse to fit your style instead of the other way around? In this review I'll be looking at the Morpha X Modular Gaming Mouse from EpicGear. In the same spirit of the EpicGear Defiant keyboard the Morpha X features a modular design allowing you to modify the mouse to fit your particular style.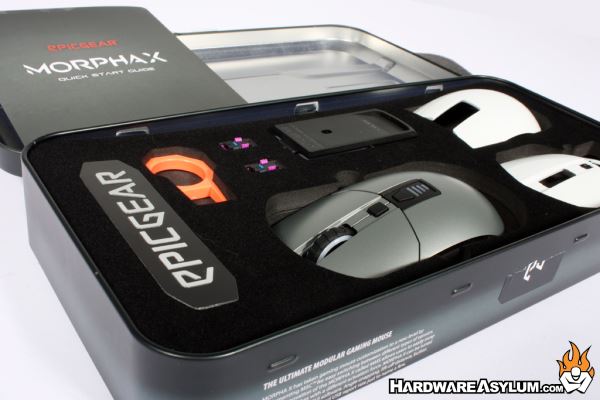 Specifications
EG MSC - Modular-Sensor-Cartridge:
- 12000 dpi IR LED sensor cartridge
- 8200 dpi laser sensor cartridge
EG MSS - Modular-Switch-Structure:
- EG Orange – medium, EG Purple – pro (from light to heavy)
Adjustable lift-off distance with auto-calibration feature
Adjustable angle-snapping
Customizable RGB LED colors
On-the-fly sensitivity change
Adjustable report rate: 125~1000Hz
Optical sensor cartridge: Up to 250ips tracking speed & 50G acceleration
Laser sensor cartridge: Up to 150ips tracking speed & 30G acceleration
AFM Ambient Lighting mode
7 longevity buttons with 6 programmable
Lock-down function
5 gaming profiles with dedicated LED color assignment
Ultra swift big-size PTFE mouse feet
1.8 meter X-braided cable with gold plated USB connector
Approx. size in mm: 126.5(L) x 66.5(W) x 40(H)
Approx. weight: 92.6g excluding sensors, cable & weights
Adjustable weight & balance system: 5g x 4 weights, 20g in total
2 year manufacture warranty
Much like with the EpicGear Defiant gaming keyboard the Morpha X features two new and exciting features including swappable switches and swappable image sensors between a traditional IR sensor to a high resolution laser sensor. The other features are not unique to any particular gaming mouse and help compliment what EpicGear has created.