EpicGear Morpha X Modular Gaming Mouse Review
EpicGear Morpha X Modular Gaming Mouse Review
Author:

Dennis Garcia
Published:
Friday, March 17, 2017

Modular Features of Morpha X
The Morpha X comes with two image sensors and can be quickly swapped by sliding them out the back of the mouse. Inside you'll find where the sensor plugs into the mouse and protected by an alignment block. Sorry for the double image glossy plastic is wanting to be a mirror.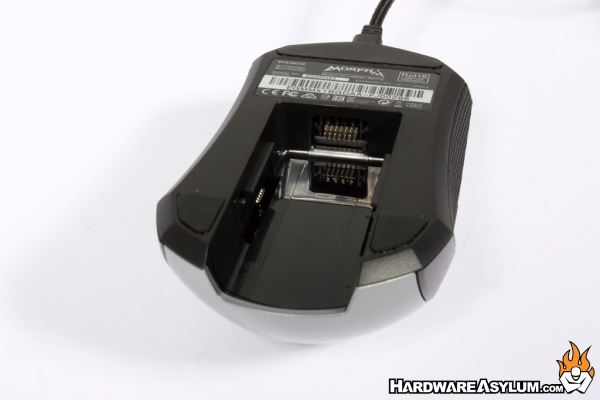 One of the key features of the Morpha X is that most everything is modular and the most accessible features is swappable image sensors. You will get two sensors with this mouse. One is a 12000 dpi IR optical sensor while the other is an 8200 dpi Laser. For once the optical sensor is more accurate with 250 ips tracking speed and 50G acceleration.
Both modules are interchangeable which allows the Morpha X to be future proof to a certain degree. For instance when a new sensor is released you should be able to buy a new sensor and swap it in.
Another great feature of any gaming mouse is being able to tune the weight. There are a total of four 5gram weight modules included with the mouse allowing you to add or subtract a total of 20 grams. Personally I like heavy mice so for my testing I left all of the weights installed.
To access the weight modules you need to remove the rear cover which is held in with a magnetic latching system. Once removed you can quickly remove weights, move them around into different positions or add them back if more weight is required.
You will notice a white square below the weight module, this is one of two RGB LED modules in the mouse and shines through the translucent EG logo on the back cover.
With the back cover removed you can also lift off the front cover and expose the two primary mouse button switches. These switches are removable allowing you to tune the trigger feel between a heavy press using the Pro quality purple switch or lighten the trigger using a medium weight orange. These are EpicGear switches with very good durability and if they wear out you can replace them.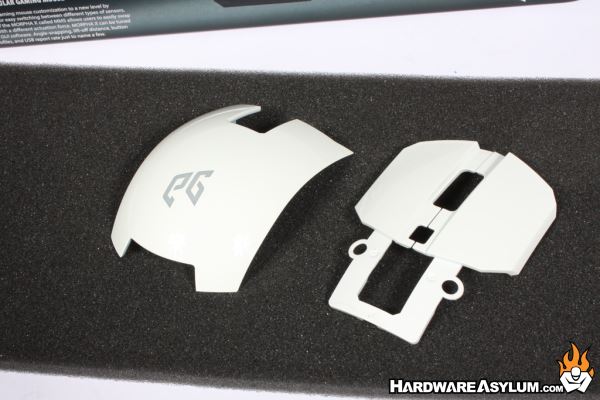 The final modification is a simple color swap between the default textured grey to a high gloss white. I have grown to love the white covers both in feel and design.