EpicGear Morpha X Modular Gaming Mouse Review
EpicGear Morpha X Modular Gaming Mouse Review
Author:

Dennis Garcia
Published:
Friday, March 17, 2017

Conclusion
I was first introduced to the EpicGear Morpha X at CES 2017 and was very impressed with how much effort was put into the hardware design that covered everything any gamer could ask for from a mouse. The swappable cover plates allow you to color match your gaming gear while the tunable weights and replaceable image sensors give you control over how the mouse moves. Having access to more than one sensor also removes the decision making process of "what sensor is right" and having buyer's remorse if you picked the wrong one. With the Morpha X you simply swap the sensor and get back to gaming.
Of the modular features found on the Morpha X I like the inclusion of the EpicGear MSS (Modular Switch System) the most. This allows you to swap out the primary left and right switches so you can configure their actuation force. This can be a wholesale change or you can make one purple while the other is orange. Best I can tell the Morpha X is currently the only mouse on the market with this technology and something that hasn't been explored before.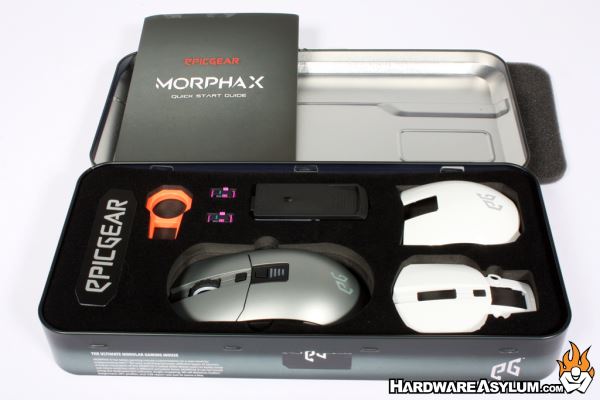 In using the Morpha X I have come to enjoy the ambidextrous shape and the overall size fits my hand quite well. It is slightly wider than my Logitech G502 and doesn't have a "handed" design where the right side rolls off. The textured side grips offer adequate friction to operate the mouse and after awhile you can adjust your grip pressure accordingly.
I did find the optical sensor to be "too" sensitive (go figure) and eventually settled on using the Laser optics for the majority of my testing. I also tested using the purple (Pro) switches and later settled on my right mouse button to be an orange switch while the left was purple. This not only made the right mouse button quieter but also activated similar to the Logitech G502 that I have been currently using.
The only thing I couldn't get accustomed to was mouse tracking. This wasn't so much a fault of the sensor or any adjustment I could make in the software but how the mouse tracked on my mouse pad. I'm currently using a Thermaltake Dasher which is a fine mesh gaming pad on a rubber base. The surface is very smooth and mice tend to slide across it quite well. The Morpha X would stick when attempting to make precision selections like highlighting text or clicking links. This is something you tend to notice more on the desktop than in games.
Of course, this may simply be a sign that I need to replace my mouse pad or that some of the mouse feet need to be a little bigger. I did try the mouse on a glass/smooth surface and it offered effortless movements so I will call it a toss-up for sure.
Good Things
EG MMS Swappable Keyswitches
Two Keyswitch Types Available
Two Modular Image Sensors Included
Two Color Options Included
RGB LED Lights
Software Available
Ambidextrous Shape
Six Button Programmability
Bad Things
Sticky mouse feet
RGB effects not configurable
Simple shape
Hardware Asylum Rating