EVGA TORQ X10 Carbon Gaming Mouse Review
EVGA TORQ X10 Carbon Gaming Mouse Review
Author:

Darren McCain
Published:
Thursday, September 04, 2014

Torq X10 Carbon Features
An adjustable weight system allows you to tailor the feel of the mouse to you liking. The solid metal base and adjustable top make getting to the weights interesting. So interesting that EVGA has posted a video tutorial.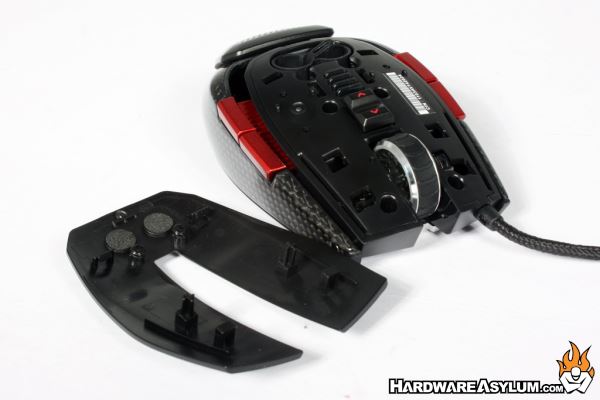 In short, removing the top surface, shown here, requires you to push the panel towards the back of the mouse while lifting up on the back edge. A steady gentle pressure is required or those tiny fasteners will break. This piece is not carbon fiber after all! I found it pretty easy but repeated openings or a rough bump and the fasteners could break. Magnets in version 2 anyone?
Once you get the top open you can easily remove the caddy that contains the weights by lifting a tab. Six total weights are included to adjust the total mouse weight between 121G and 134G. Usually I prefer a mouse pretty light but I found a single solid weight felt "right" to me. The weights are held in a soft rubber caddy that prevents the weights from shifting.