EVGA TORQ X10 Carbon Gaming Mouse Review
EVGA TORQ X10 Carbon Gaming Mouse Review
Author:

Darren McCain
Published:
Thursday, September 04, 2014

Software
The Torq X10 mice ship with EVGA's Unleased Driver Suite. I downloaded the latest software (version 1.5.6) for this installation. The software is both attractive and easy to use.
Support is divided into 5 different tabs: Button Assignment, Button Settings, Advanced Settings, Macro and Profile Mgmt. Changes can be stored in 5 separate profiles. Sensitivity, lighting control and DPI are always present across the top.
Button assignment is nicely illustrated and color coded for ease of use. Simply select your button and then the assignment. The default left hand/right hand selection makes changing over easy. An oversize Factory Defaults button will save you if things get a bit too customized.
The Button Settings screen provides a wide range of preset mouse control options that can be mapped to each key by number again. A lot of functionality overlaps between these two screens but options are nice.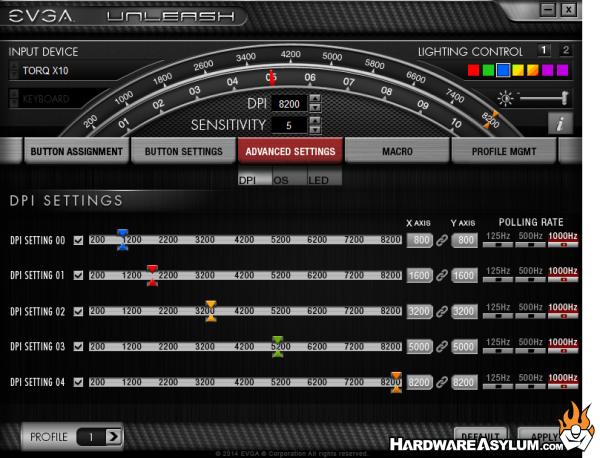 A lot of functionality lives on the Advanced Settings screen thanks to the option to choose DPI, OS or LED controls. DPI allows you to change the default DPI settings for the 5 presets. You can also adjust the X and Y axis as well as the polling rate for each preset. The jump between 5200 DPI and 8200 is pretty steep. I am all for eliminating the low end and adding a 6500ish setting here. Sadly the color coded settings do not show up in color on the X10 and appear only in red.
OS control provides access to the typical mouse controls like mouse acceleration, snapping and scroll speed.
LED control provides an expanded set of tools for customizing the light show on the X10. You can choose the color and brightness from 7 different colors. You can force the light son, turn them off completely or, my favorite, make them breathing.
Macro provides s solid set of macro tools that can be recorded and saved to a keystroke. Again these are profile specific. Blah
One of the more interesting options lives in the Profile Mgmt screen. Here you can manage your profiles as expected but you can also save profiles to your PC. This effectively multiplies your profiles and allows you to create and share profiles with your friends.