EVGA TORQ X10 Carbon Gaming Mouse Review
EVGA TORQ X10 Carbon Gaming Mouse Review
Author:

Darren McCain
Published:
Thursday, September 04, 2014

Introduction
EVGA is probably not the first name that you think of when shopping for a mouse. With the new Torq X10 they aim to change that in a big way. EVGA may be best known for their NVIDIA based video cards but they have branched out before with some award winning Power supplies and motherboards. Let's see if the Torq X10 set a similar trend.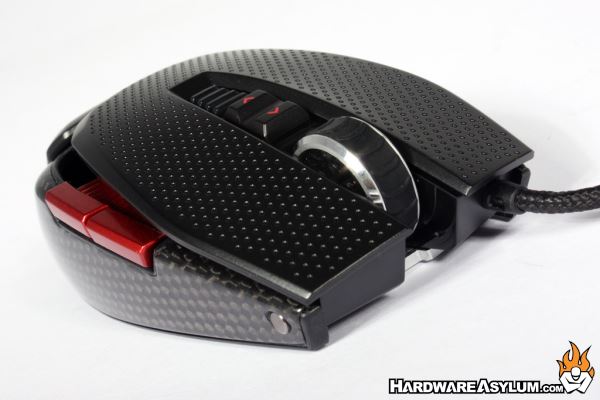 A popular quote from Henry Ford states, "You can have any color as long as it's black.". This was a line describing the new Model T and is still relevant today. The Torq follows a similar concept and only comes in black but you do get to choose your materials. You can take the black and aluminum standard X10 or opt for the upgraded X10 Carbon like the one in this review. The Carbon replaces all of the exterior shell with real carbon fiber. I am sure even Ford would approve.
The black look is accented by a set of red buttons on each side that appear to be anodized aluminum and the two arrows on the adjustable DPI rocker just behind the wheel. Shiny accents on the convex scroll wheel provide a bit of flash that looks even better when things are lit up! Let's see what's under the hood.
Specifications
Max DPI: 8200
Sensor Type: Laser (Avago 9800)
Main Switch Type: Omron - 20 Million Click Lifecycle
Programmable Buttons: 9
Min/Max Weight: 121G/134G (without cable)
Max Polling/Report Rate: 1000Hz
LED Color: Red, Green, Blue, Yellow, Orange, Pink, Purple
Feet Type: Low Friction PTFE
Max Number of Profiles: 5 (512K Onboard)
Dimensions
Height: 1.25in - 31.75mm (min) 1.5in - 38.1mm (max)
Length: 4.5in - 114.3mm
Width: 2.25in - 57.15mm
Features
Real Carbon Fiber Surface
Onboard storage can support up to 5 separate profiles
Ambidextrous design supports right or left handed gamers
Adjustable height system supports all gamers
Adjustable DPI up to 8200 DPI with On-the-Fly Sensitivity adjustment
Adjustable weight system
Highest quality materials including silver coated wire and Omron switches (20 million click life cycle)
Robust software allows full control over mouse including Macro setup, profiles and OSD
Super low friction PTFE mouse feet

With a list like that it's hard to believe X10 Torq is EVGA's first mouse design and clearly targeted towards the serious gamer.