Ballistix Sport AT 3000Mhz CL17 DDR4 Dual Channel Memory Review
Author:

Dennis Garcia
Published:
Friday, July 20, 2018

Conclusion
In this review we looked at the Crucial Ballistix Sport AT DDR4 3000Mhz Quad Channel memory kit. This is a memory kit designed to complement the ASUS TUF Gaming Alliance motherboards and other modern DDR4 systems including the Intel 100/200/300 series chipsets and AMD Ryzen based motherboards. Not only do the modules look good but are currently available in two speeds starting at 2666Mhz and 3000Mhz with module densities of either 8GB or 16GB and timings of CL17.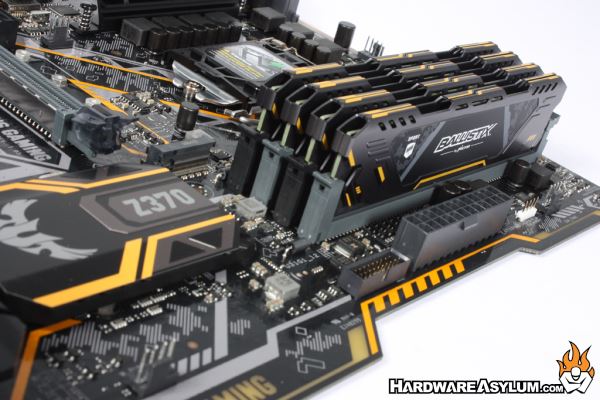 The benchmarks were recorded on an ASUS TUF Z370-Plus gaming motherboard using a Core i7 8700K CPU. This is different from our normal test bench and despite this I'm still very impressed with the results. Dual channel performance was quite good and showed that faster memory is worth the additional cost. The thing is Ballistix memoy has never been a performance winner but they are not about the bare minimum either as both 2666Mhz and 3000Mhz modules occupy the "sweet spot" when it comes to performance memory.
These are several multiplier settings above JEDEC and are still slow enough to work with any processor supporting DDR4. As many of you know Skylake-X struggles with memory speeds above 3200Mhz and Ryzen enjoys life around 2966Mhz. Any faster than that and the quality of your processor factors into performance and compatibility.
Of course given that the Ballistix Sport AT modules were designed for the ASUS TUF Gaming Alliance motherboards you can be assured they will work with the entire lineup.
A key feature of the Ballistix Sport AT memory is the module design and how well it works with the ASUS TUF Gaming Alliance motherboards. Viewing these modules alone they look great, the design is conservative and the graphics are simple enough that they just work.
The impressive part is when you pair the Ballistix Sport AT modules with any ASUS TUF Gaming Alliance motherboard. I have been around computer hardware for a very long time and never have I seen a more perfect union between a 3rd party component and motherboard. Typically this is a power struggle to come up with the best design and with the Sport AT modules it is just the opposite. The design is perfect, the colors are spot on and if the photos on the ASUS website are any indication, they love them too.
Good Things
Great Heatspreader Design
Available in speeds up to 3000Mhz
Best Looking Memory Modules
Good Overclocking
Bad Things
Single XMP profile
Limited module overclocking
Hardware Asylum Rating