Patriot Viper Gaming RGB 3200Mhz Dual Channel Memory Review
Author:

Dennis Garcia
Published:
Thursday, August 09, 2018

Introduction
A modern gaming PC is a delicate combination of high-end components coupled with just a touch of style. Sometimes style gets out of hand but when combined with the right components it wouldn't matter. The current trend in custom PCs is RGB LEDs and as the implementations have improved so has the integration. What was once individual lighting patters has transformed into fully synchronized lighting and really the missing part between a good build and an amazing one.
In this review I'll be looking at the Patriot VIPER RGB BLACK DDR4 performance memory kit P/N PVR416G3200C6K. This is a 16GB dual channel kit running at 3200Mhz with a CAS latency of 16. These modules feature a decorative aluminum heat spreader and come in a variety of speeds from 2666Mhz up to 4133Mhz. They are compatible with Intel 100/200/300 series chipsets and AMD 300 series motherboards for reliably fast performance.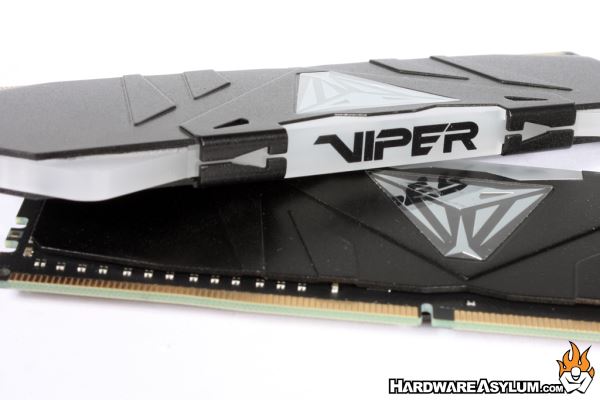 The Patriot Viper RGB memory kit(s) are also available in two different heatspreader designs. The Black featured in this review is the high-performance kit with speeds up to 4133Mhz. The second features a White heatspreader design with speeds up to 3200Mhz. Both are fully RGB LED ready and are compatable with all of the major motherboard lighting implementations including Gigabyte RGB Fusion, ASUS Auroa Sync, MSI Mystic light Sync and ASRock Polychrome Sync.
Ironically, enough memory modules were one of the first components to feature LED lighting effects. DDR1 modules featured activity LEDs across the top and some even allowed you to program custom messages into a digital display. You could find activity LEDs on DDR2 modules but those quickly went away as module makers started focusing on speed over fancy lighting effects. With the RGB LED movement in the enthusiast PC space there is a renewed interest in adding lights to memory modules again. The difference however, is these lights are no longer part of the memory module but rather run independently using an external lighting controller.
The Patriot VIPER RGB modules are a functional upgrade to the Patriot VIPER LED modules we reviewed earlier this year. The main difference is a revised heatspreader design and full RGB LED lights across the top.