Patriot Viper Venom 6200Mhz DDR5 Memory Review
Author:

Dennis Garcia
Published:
Saturday, May 7, 2022

Introduction
When Alder Lake launched in 2021 it brought with it a variety of new technologies and concepts. Due to the global chip shortages, there was a distinct lack of supporting components for Alder Lake systems including motherboards, processors and system memory. However, this didn't stop hardware enthusiasts from building new systems and take advantage of the new HEDT concept. These new processors are featuring hybrid processor cores for better performance and power efficiency, PCI Express 5.0 for faster system transfers and the latest in system memory technology, DDR5.
In this review we will be looking at a DDR5 memory kit from Viper Gaming, the Venom. These modules are some of the fastest you can currently buy clocking in at 6200Mhz with timings of 40-40-40-77 @ 1.35v and come in both ARGB and Non-Lighted models.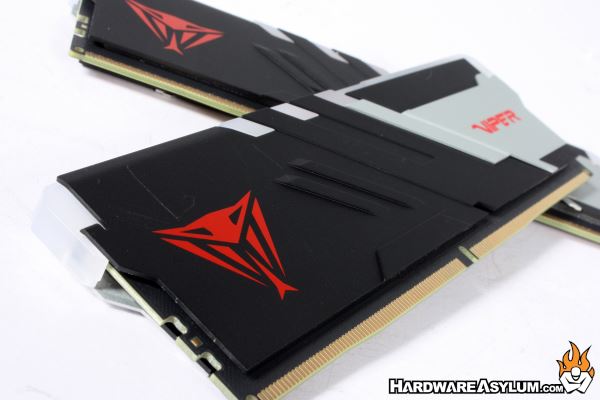 One of the driving factors behind this Viper Venom DDR5 memory release is to take advantage of the global chip shortage and the distinct lack of high speed DDR5 memory on the market. Viper Gaming accomplished this by releasing the 6200Mhz 32GB 16GBx2 SKU first with the intention to follow up with the lower speed versions later in 2022.
You will eventually be able to find Viper Venom DDR5 memory modules in dual channel 32GB kits with speeds ranging from 5600Mhz up to 6200Mhz with RGB lighting. Non-RGB versions, called Venom Black, will feature 32GB dual channel kits with speeds ranging from 5600Mhz up to 6200Mhz and 16GB dual channel kits with speeds between 5600Mhz and 5200Mhz. Not surprising is the distinct lack of 4800Mhz modules giving the Viper Venom a nice speed bump at whatever speed you happen to purchase.
The New DDR5 Standard
As was mentioned before Alder Lake brings with it a new DDR memory standard designed to handle the memory demands of modern systems and the new processor architecture. It offers the promise of higher memory speeds at the expense of higher latencies. This is not uncommon given that while the technology changes they still conform to the same basic rules and it often takes some time before we see latencies drop and speeds increase.
For instance, when DDR3 and DDR4 launched many enthusiasts noted that the memory timings had more than double from the previous generation and often ran at the same speed, if not slower. This translated into lower-than-expected memory performance which tended to improve with subsequent processor releases as memory utilization improved.
Fortunately, DDR5 and the Alder Lake platform has already proven it can be faster than the previous generation however, many applications are not optimized to take advantage of the memory bandwidth and even if it is a major performance bottleneck and it is difficult to know if memory speed is a contributing factor or is simply being masked off by an overtly massively powerful CPU.
Despite these "growing pains" DDR5 brings with it many benefits such as a higher default speed of 4800Mhz and lower operating voltages of 1.1v. The DDR5 architecture also supports higher chip densities allowing manufacturers to create much larger memory modules with fewer chips. This increases performance across the board and lowers manufacturing costs at the same time.
The modules featured in this review has pushed the limits of DDR5 up to 6200Mhz and it will be interesting to see if the increase in speed is a noticeable benefit in overall system performance or, another case of the hardware technology just being too good and waiting for everything else to catch up.