Patriot Viper Venom 6200Mhz DDR5 Memory Review
Author:

Dennis Garcia
Published:
Saturday, May 7, 2022

Viper Venom DDR Memory Overview
The memory heatspreader has become a defacto standard in the performance memory world. In the days of DDR and DDR2 the heatspreader was an integral part of the memory module and actually helped overall system performance and overclocking. While these modules were binned and qualified without a heatspreader the retail consumer would often make buying decisions based on heatspreader design.
Heatspreader designs have gotten pretty wild since then with certain companies offering watercooled and TEC cooled versions just to gain an edge in the marketplace. What most consumers fail to comprehend is that technology has advanced quite a bit from these early days and even the fastest DDR4 modules rarely produce enough heat to warrant a spreader despite there being more technology packed into a smaller package.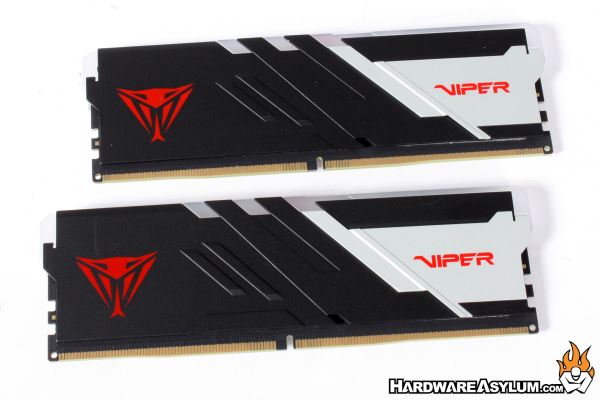 What I have noticed is that Viper Gaming enjoys experimenting with heatspreader designs and the latest iteration featured on the Viper Venom modules is one of my favorites. The heatspreader itself is purely decoration featuring rather thin aluminum panels with carefully placed embossing to provide some strength while also accenting the unique cuts across the top of the module. To the right is a small silver anodized section featuring the Viper text logo while the rest features a matte black anodized treatment and Viper snake graphic.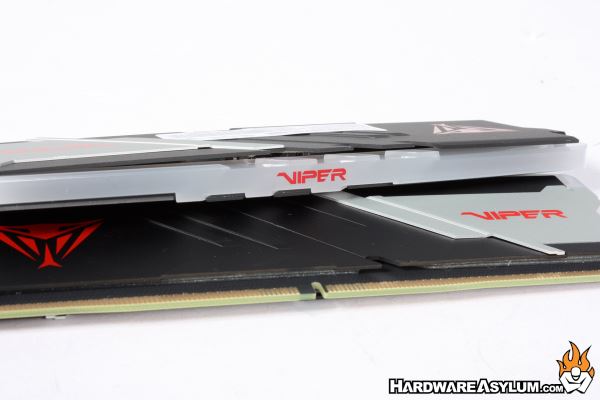 On RGB enabled modules you will find a nice light bar across the top of the module that forms a single line when viewed directly down. Light is broken up when viewed from the side with pockets of light showing through the heatspreader in the middle and along the edges.
Lighting is nicely diffused with the default lighting patten appearing to start in the center and move outwards. These modules support all of the major motherboard lighting systems allowing you to sync the lighting effects or, you can create custom patterns using the Viper Venom RGB App.