Patriot Viper Venom 6200Mhz DDR5 Memory Review
Author:

Dennis Garcia
Published:
Saturday, May 7, 2022

Conclusion
If we follow the normal cadence for product releases, we will see companies trying to maximize profits by releasing the low-end parts first. Generally speaking, these parts are also readily available making it less expensive to produce and faster to get to market. Patriot and Viper Gaming took a slightly different approach by driving directly to the high-end and thus ensuring that they would be the only ones with 6200Mhz DDR5 memory parts available in the market.
Bold moves like this increase their market risk but offer a much greater reward if they are successful. In a way they are catering to the Computer Hardware Enthusiast, high-end gamer and extreme overclocker by launching the Viper Venom 32GB Dual Channel kit at 6200Mhz by giving them exactly what they demand at a time when these parts are still difficult to find.
In terms of performance the Viper Venom 6200Mhz memory modules offered amazing performance out of the box and were fully compatible with our ASUS Strix B6600-I and Core i7 12900k processor. The Venom modules feature two XMP profiles allowing the user a choice between a memory profile with tighter timings or a profile supporting higher frequency. Ideally this also gives users a fall back if they particular CPU cannot support 6200Mhz or you need to run with a lower voltage setting.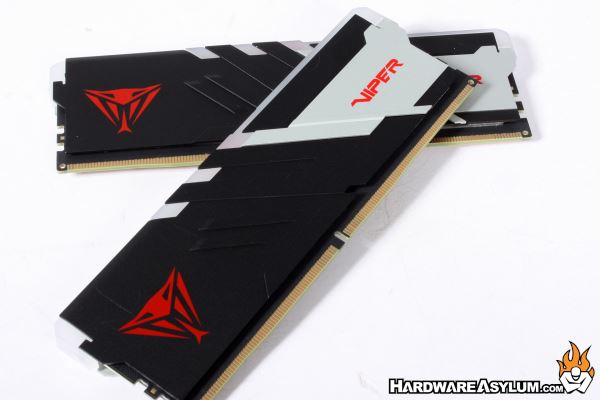 One of the great things about high-speed memory is the ability to tweak and tune the modules to suite your system. While our Viper Venom modules ran perfectly at 6200Mhz that speed could be easily increased with a minor timing change and voltage bump. The same is true when using the lower speed XMP profile allowing the system to run with 400Mhz of headroom at the same voltage setting.
Of course, voltage played a huge role in both of these overclocks and your mileage can, and likely will, vary.
Overall, I had a blast testing the new Patriot Viper Gaming Venom DDR5 memory modules and found them to be very well rounded and offered some amazing out of box performance. The RGB lighting is extremely bright and offered an amazing color range that should blend with any custom build. As mentioned, the heatspreaders feature a dual color design and while they may not work with polar white system builds, they will work with any other color combination and are available without RGB lights if you're not into the whole "everything needs lights" thing.
Good Things
Stylish Heatspreader Design
Bright RGB Lighting
Amazing 6200Mhz Speeds
Accepts a Wide Range of Overclocking
Available Without RGB
Bad Things
Memory might be too fast for some builds
Hardware Asylum Rating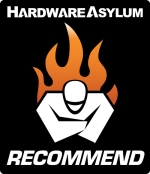 Patriot Viper Venom 6200Mhz DDR5 Memory Review
Recommend
https://www.hardwareasylum.com