Predator Hermes DDR5 6800Mhz RGB Memory Review
Author:

Dennis Garcia
Published:
Monday, October 23, 2023

Introduction
It is not often that I get excited for system memory. At the high level it is pretty boring and ripe with terms and technology that can make your head spin. Thing like timings and their relation to frequency are confusing to most enthusiasts and when you combine that with overall performance you could be left scratching your head when a setting that should be faster turns out to do the opposite. Interactions like this have left enthusiasts and system builders to often resort to the lowest common denominator leaving memory makers to abandon the "fringe" in hopes of maximizing sales.
In this review we will be looking at the Hermes memory from Predator. Now if you haven't heard of Predator before, you are not alone. Predator branded storage products are designed and manufactured by BIWIN Storage Technology since 2010 with a mission to provide best-in-class memory and storage solutions for serious gamers and overclocking enthusiasts looking for the ultimate experience.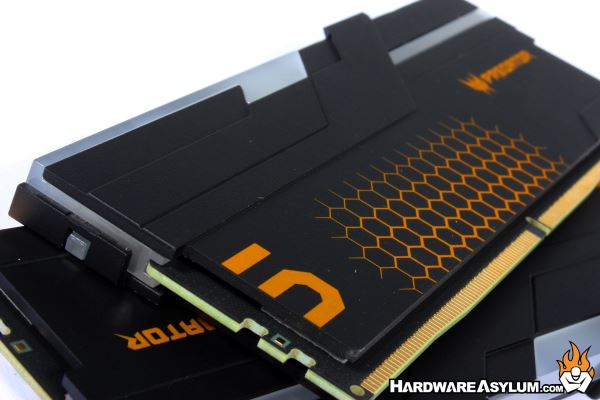 Simply put, we should expect high quality performance memory solutions. Hermes memory modules are the fastest RGB DDR5 memory modules offered by Predator with speeds ranging from 6800Mhz up to 8000Mhz in standard dual channel kits of 32GB.
There are several things that caught my attention when first introduced to the Predator Hermes. First is the heatspreader design. Unlike some modules you can buy these modules feature very solid construction with a thick material used on the heatsink. There are subtitle features machined in to the aluminum and the surface feels soft to the touch.
The heatspreader design is quite tall with over a 3rd of the total height being dedicated to a RGB light bar. I feel the height could cause interference with many high-end aircoolers however, I don't suspect that with pose a problem with many gamers. RGB lighting effects are very smooth and can be viewed through the various viewports found on the side and top of the module.
The second thing I found interesting is the included active cooling option in the form of a small fan and mounting bracket. This bracket installs using a mounting screw for your motherboard and provides some air movement around the memory for better cooling. While this can be a real issue on fully watercooled systems the truth is, DDR5 doesn't run all that hot so adding more fans can be a little excessive.