Predator Hermes DDR5 6800Mhz RGB Memory Review
Author:

Dennis Garcia
Published:
Monday, October 23, 2023

Conclusion
In this review we looked at the Predator Hermes DDR5 RGB memory kit. This is a dual channel 32GB memory kit clocked at 6800Mhz at CL32. These modules are a top-of-the-line DRAM option from Predator and can be purchased in three different colors from Black (featured in this review) White and Silver providing you color match options within the Hermes product line. Having so many color options is quite rare especially given the speed grade of these Premium memory modules.
The modules feature a very unique heatspreader design made from thick aluminum plates that have been machined to feature subtle surface details and RGB view ports along the side. Across the top of the module the textures continue giving the modules a very different look with very little effort. Each Hermes memory kit comes with a small fan and mounting bracket which can be used to help cool the memory despite there be very little need. Generally speaking, DDR5 tends to run quite cool, even under extreme loads however, some enthusiasts enjoy the added insurance.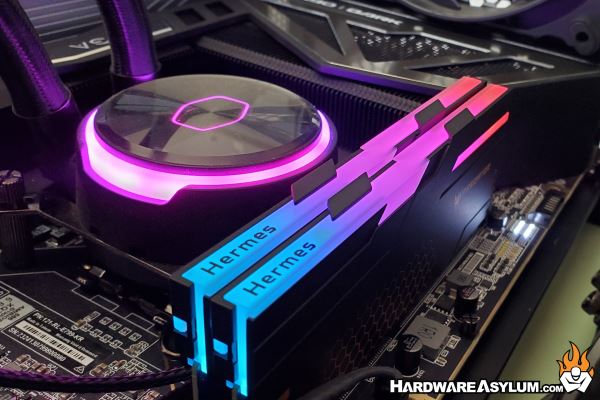 Overall performance out of the box is quite good and should be considering the overall speed and CAS of 32. When testing on the EVGA Z790 Dark Kingpin you simply install the modules, set the XMP profile and away you go. Of course, overclocking performance was less than ideal though doesn't matter all that much and is really a product of the module construction. Many SK Hynix based DRAM modules are configured with a higher CL and will use less voltage. However, Predator opted to increase out of box performance with better timings and the 1.4v working voltage is just a biproduct. The result is a very fast memory module with limited headroom and really cool looking heatspreader.
Good Things
Great out of box Performance
Quality Heatspreader Design
Three Colors Available
Up to 8000Mhz Speed Available
Bad Things
Higher than expected voltage demands
Limited overclocking
Hardware Asylum Rating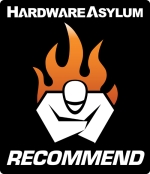 Predator Hermes DDR5 6800Mhz RGB Memory Review
Recommend
https://www.hardwareasylum.com