GSKill TridentZ 3466Mhz CL16 DDR4 Dual Channel Memory Review
Author:

Dennis Garcia
Published:
Wednesday, November 18, 2015

Conclusion
In this review we looked at the GSKill TridentZ DDR4 3466Mhz Dual Channel memory kit. These are a new series of high-performance memory designed for the Intel Z170 Skylake platform. Not only do the modules look good but are available in a multitude of speeds starting at 2800Mhz and stretching up to 4200Mhz with timings between CL14 and CL19 depending on the kit and frequency.
As our benchmarks showed running the GSKill TridentZ modules did show nominal gains over the slower modules proving that there is a benefit to higher speed memory. However, in the real world many people would be hard pressed to notice any difference which brings up a point of efficiency and compatibility and making sure you pick modules that match your platform.
Normally in my memory reviews I have an overclocking section where I push the modules to see how much headroom is available. As it would turn out the 3466Mhz modules would not overclock on the MSI Gaming M7 motherboard. Overall this was rather disappointing but, as most enthusiasts know the cost of early adoption is sometimes detrimental to performance. Of course overclocking goes beyond tweaking timings and is where having a quality processor and motherboard can help you attain y our goals. Or, you can go the safe route and simply buy the faster modules and not have to worry about it.
Performance and cost aside the new TridentZ modules are very stylish and while they lack fancy lights the overall design is one of the best I have ever seen. The heatspreaders are dual colored with grey and black panels and a red panel across the top to bring all of the colors together. Visually the design is extremely clean and elegant and will match just about any modern gaming build perfectly.
Good Things
High Speed Modules
Best Heatspreader Design
Available in speeds up to 4200Mhz
Black and Red goes with Everything
Bad Things
Hardware Asylum Rating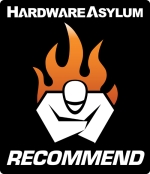 GSKill TridentZ 3466Mhz CL16 DDR4 Dual Channel Memory Review
Recommend
https://www.hardwareasylum.com