GSKill TridentZ Neo 3600Mhz RGB CL16 DDR4 Quad Channel Ryzen Memory Review
Author:

Dennis Garcia
Published:
Thursday, March 19, 2020

Benchmarks - Synthetic
The System as it was Tested
TRX40 Aorus Master – TRX40 Chipset
AMD Ryzen Threadripper 3960X (3.8Ghz) 24 Core 24 x 512KB L2 Cache 8x 16MB L3 Cache
Noctua NH-U14S
1x EVGA RTX 2060 KO
Crucial MX500 500GB SSD
HP dvd1260i Multiformat 24x Writer
Thermaltake Toughpower Grand 1050 Watt PSU
Windows 10 Pro 64bit
Memory Tested
4x GSKILL TridentZ NEO PC4-3466 32GB DDR4 (16-18-18-38)
4x Crucial Ballistix Elite PC4-4000 32GB DDR4 (18-19-19-39)
4x Corsair Vengeance LPX PC4-2666 16GB DDR4 (15-17-17-35)
GSkill TridentZ Neo XMP 3600Mhz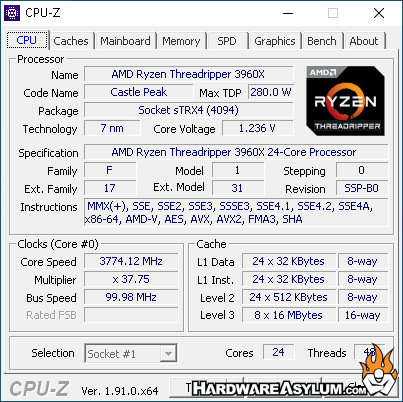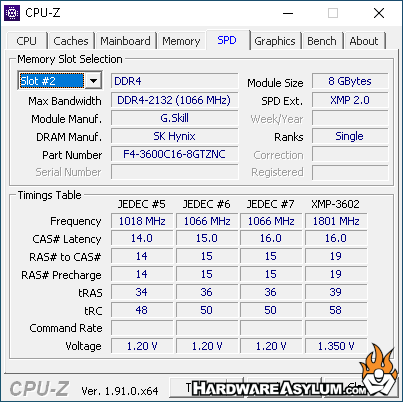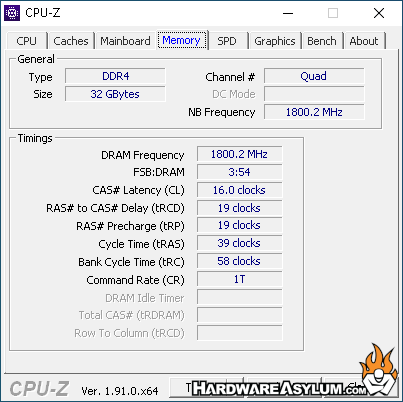 SiSoft Sandra
Sandra is a software collection of synthetic benchmarks that will give us a basic idea as to what a system is capable of. It should be noted that SiSoft numbers change depending on what hardware is being tested. These were recorded using Sandra Professional Version 28.61.2018.12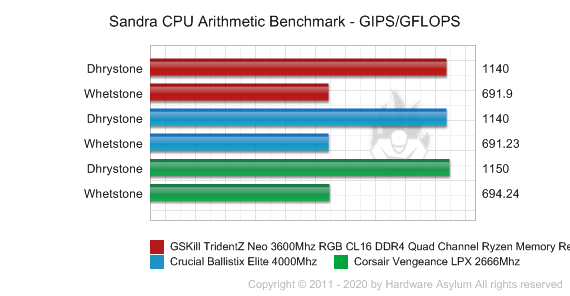 AIDA64 Extreme Edition
AIDA64 Extreme Edition is a streamlined diagnostic and benchmarking software package designed to assist with overclocking and general system tuning. The package also contains modules to assess the performance of the processor, system memory, and disk drives in addition to normal stuff like stress testing and troubleshooting.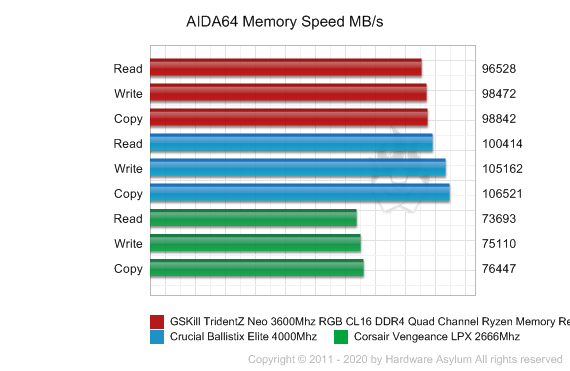 Unigine Heaven Benchmark
Unigine is a synthetic benchmark much like 3DMark Vantage, but supports the newest of DirectX 11 technologies. The benchmark comes with lots of heavy tessellation and soft shadows to work the more flexible shaders found on DirectX 11 graphic cards. This makes this benchmark ideal for seeing exactly what a best case scenario might look like for a DirectX 11 capable GPU.
Benchmark Settings
HWBot Benchmark
DirectX 11 Presets
DirectX 9 Presets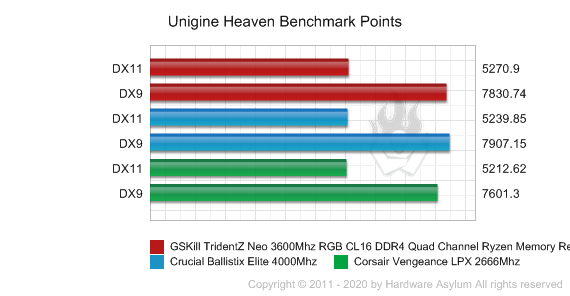 UL PCMark 10
PCMark 10 is an overall system benchmark to measure and compare PC performance using real-world tasks and applications. Similar to 3DMark this new version tests the entire system as a whole using applications that reflect typical PC use in the home and at the office. This approach ensures that PCMark measures the things that matter, highlighting performance differences that will be apparent to end users and consumers.

Benchmark Conclusion
When you are dealing with performance memory modules you basically have two modes to choose from. You have the JEDEC mode which is the default and you get this without any BIOS modifications. This will offer stable performance and is the way just about every OEM computer system is configured.
Enabling XMP is by far the fastest way to increase system performance and was the basis of this review. To give these numbers some context we matched them up against two different sides of the memory spectrum. On the upper end we have 4000Mhz Crucial modules, this is a quad channel 32GB kit which pairs nicely with most Ryzen systems. On the lower end we have an extremely old set of Corsair 2666Mhz modules that I first acquired when DDR4 first hit the market. The Corsair set is only 16GB.
From a performance standpoint the GSkill TridentZ Neo modules do extremely well and are configured to offer the best performance. Our synthetic tests show you that faster is generally better and the Crucial modules come out on top. The same is true with AIDA until we get to Latency and as you know lower is better. The Trident Neo modules offer the lowest latency of the entire bunch.
Unigien is a video card benchmark that responds well to subsystem efficiency. It is difficult to see but DX9 performance his highest with the Neo modules and a very close second in DX11. The final benchmark is PCMark 10 and is our full system entry. Hands down the Trident Neo modules are the fastest and what was the fastest setup in synthetic numbers is now the slowest.
As a competitive overclocker I can appreciate big bandwidth however performance must be well rounded in the real world.