GSKill TridentZ Neo 3600Mhz RGB CL16 DDR4 Quad Channel Ryzen Memory Review
Author:

Dennis Garcia
Published:
Thursday, March 19, 2020

Conclusion
In this review we looked at the GSkill TridentZ Neo DDR4 3600 Quad Channel memory kit. These are performance memory modules designed for the Ryzen Threadripper 3 platform but can be used on any DDR4 platform including Intel LGA 115x, LGA 2011, LGA 2066 and AMD Ryzen. The modules feature the stylish TridentZ reversible heatspreader design in black and silver with an RGB light bar across the top. RGB can be sync with any of the motherboard lighting platforms including MSI Mystic Light, ASUS Aura and Gigabyte RGB Fusion and doesn't requre any external software.
GSkill TridentZ Neo modules are available in a variety of different speeds starting at 2666 and stretching up to 3800Mhz with timings between CL14 and CL18 with capacities topping 256GB across 8 modules. The speed, capacity and number of modules will depend on your needs with just about any combination being possible.
When I first started reviewing the new Threadripper 3 platform I was amazed at how much power potential the platform had and then was extremely disappointed in poor memory performance. Some of that was due to me getting a broken processor (which has since been replaced) while most was from using memory modules that were over 6 years old.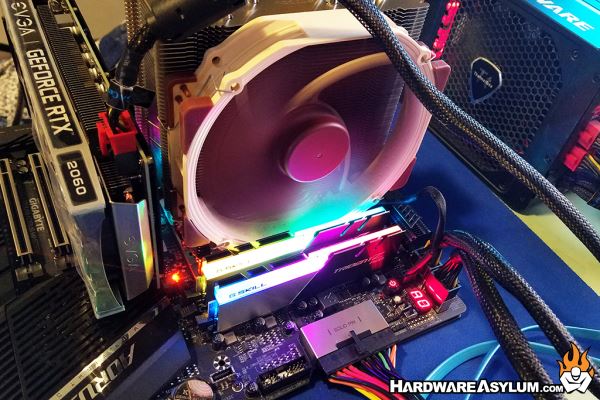 The TridentZ Neo modules featured in this review are designed and marketed for Ryzen platform and are configured to work best with their unique memory controller. For our Ryzen Threadripper 3960X the platform requires that the Infinity Fabric and Memory Clock be run at 1:1 for the best performance. Infinity Fabric generally is most stable at, or below, 1800Mhz meaning that memory modules at 3600Mhz are the magical number for the best performance.
As the benchmarks showed the Ryzen Threadripper 3960X can run memory faster than 3600Mhz but due to the divider required there is a detrimental impact on memory latency and real world performance. Simply put, without a golden processor and some lucky overclocking your system will be slower when running your memory faster than 3600Mhz. This was the main reason I skipped the normal memory overclocking section as there was no point.
Oh and for the record 3800Mhz seems to be the highest these modules would run at XMP timings and voltage so, that's a thing.
Overall I am extremely pleased with the TridentZ Neo RGB memory. Not only does this configuration offer the best out of box performance for the Ryzen Threadripper but the modules feature an excellent RGB lighting option and full compatibility motherboard RGB control software. There isn't much to gain from overclocking but on the 3960X Threadripper but that isn't always the point. Match these modules with any of the major TRX40 motherboards and you'll get worry free performance for years to come.
Good Things
High Speed Modules
Great Looking Heatspreader Design
Available in speeds up to 3800Mhz
Great Timings
Excellent Out of Box Performance
Best Module for Ryzen and Threadripper
Bad Things
Nothing to note (odd I know)
Hardware Asylum Rating