SilverStone LSB02 Multifunction Addressable RGB Control Box Review
Author:

Dennis Garcia
Published:
Wednesday, April 03, 2019

Supported ARGB Fans and Lights
AP142-ARGB
As with most RGB systems on the market there is an ecosystem that you must stay within to ensure compatibility. SilverStone sells a variety of different RGB components including three different RGB fans in two sizes, two RGB fan covers in two sizes and at least one kit of ARGB light strips.
The fans I'll be using in this review are the 140mm AP142-ARGB. These are an air penetrator design with PWM fan control.
RGB is handled by two three pin headers on each fan which allows you to daisy chain fans together and pass the RGB signal from one fan to another or to a light strip.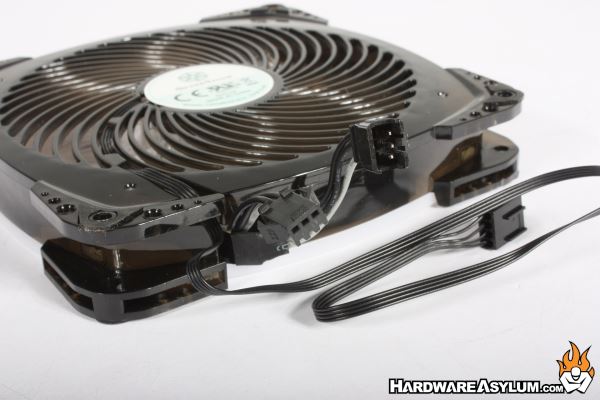 The fans do look amazing when they are lit up however I'm not very impressed with the design. The fans are constructed from a flexible clear plastic that work great at transmitting light but tends to be really noisy and flex badly under stress.
SilverStone LS03
The LS03 ARGB light strips come in packs of two and measure 300mm in length. As with the AP142 fans they feature three pin RGB headers on each end allowing them to be daisy chained together.
As with most RGB light strips these feature both an adhesive backing and come with magnets. The magnets are quite strong and work well in builds that are prone to be carried around, such as a LAN Party rig.
To further reinforce that these are SilverStone ARGB light strips you'll find the snowflake logo between the LEDs.