SilverStone LSB02 Multifunction Addressable RGB Control Box Review
Author:

Dennis Garcia
Published:
Wednesday, April 03, 2019

Introduction
When it comes to RGB lighting there is no question that it is the hot thing in the custom PC building world. Motherboards have started bundling RGB controllers using manufacturer specific software and if you are lucky you'll get one or two RGB headers allowing you to expand the light show.
Unfortunately, RGB is still the Wild West when it comes to expanding the ecosystem. There are certain RGB memory modules that don't work on RGB enabled motherboards. Lighted keyboards and mice cannot sync with other components and if you are using video cards from different manufacturers there is a good chance the lighting controls required separate software packages to work.
What ends up happening is that instead of enjoying different patterns you start setting your components to a single color and hope the multitude of software packages all load and play nice together.
This is where the SilverStone LSB02 Multifunction Addressable RGB Control Box comes in offering an external hardware based RGB controller and In what I might consider one of my longest real world product reviews ever let's check out the SST-LSB02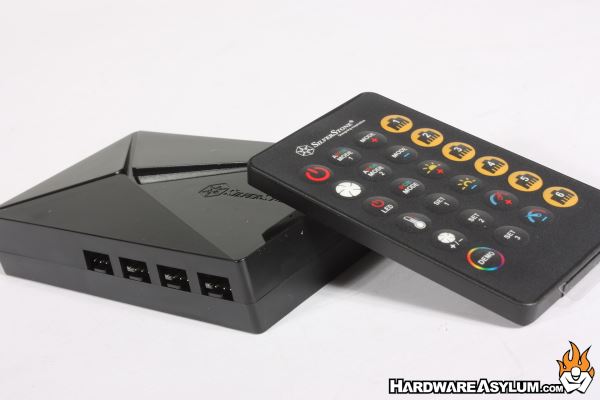 The LSB02 is a standalone RGB control box, the package contains the control box, a membrane button remote and all of the cables you will need to hook up the system.
As with most controll boxes each side is dedicated to connecting something. This side features connections for the thermal probe, USB and power. The USB connection allows the controller to interface with the PC and remotely power it on.
Along the two other sides you'll find four PWM fan connections and up to six ARGB lighting channels. It should be noted that each RGB channel can support up to 72 LEDs while the fans are limited to 5A each.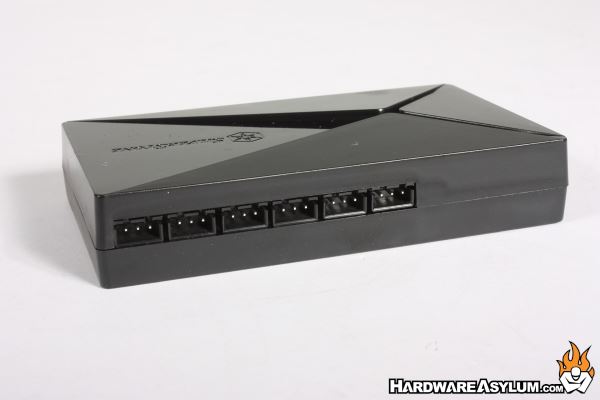 What it doesn't include is any RGB lights.