SilverStone LSB02 Multifunction Addressable RGB Control Box Review
Author:

Dennis Garcia
Published:
Wednesday, April 03, 2019

Included Cables and Remote
Installing the LSB02 and accessories is extremely easy. Each cable is keyed and if you start at the controller you'll know which end to plug in first. Both the LS03 and AP142 Fans come with two sets of cables each. The first is a Y-Splitter so you can hook up the components independently instead of in series. This is important to keep in mind since the lights will react differently depending on how you hook them up.
The other cable features a standard 4-pin RGB header that will adapt external RGB lighting systems to the SilverStone system. What is important to keep in mind is that these components are digitally addressable and require the three pin ARGB header. If your system is standard RGB using 4-pins these components will not work.
Fans and the Remote start feature are very straight forward. The fan controller supports 4-pin PWM style fans and the remote start works as a "man in the middle" and places a control point between the motherboard power header and the actual power button. This allows you to press the power button on the remote which sends a signal to short the power header and start the machine. Pressing the button again will turn the machine off provided that feature is enabled in Windows. (else it becomes a long press)
Speaking of the remote it is packed with buttons.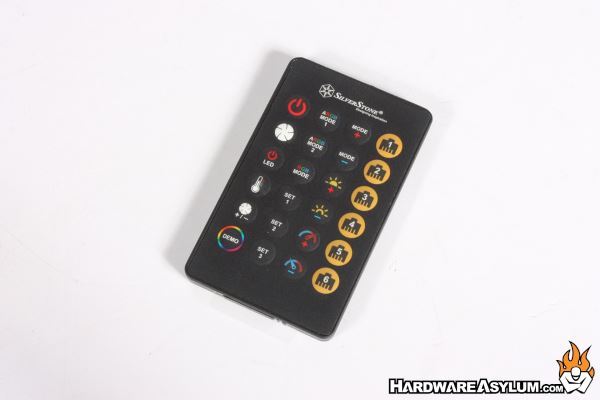 The LSB02 control box has a ton of built in features so be sure to consult the manual for more detail.
Along the left side starting at the top you'll find:
Power Button,
Fan On/Off,
LED On/Off,
Temperature Monitor Mode On/Off (this changes the color of the LEDs to temperature values),
Fan Speed Control,
Demo mode (this will cycle though all the RGB LED styles)
Next row over allows you to configure the RGB lighting modes.
At the top is Addressable RGB Mode 1 (All the lights follow the same pattern),
Addressable RGB Mode 2 (Lights on each channel can be different),
RGB Mode (standard RGB Lights, all the same),
Memory Presets 1-3,
The Next row over allows you to select parameters of the modes.
Mode Forward,
Mode Backwards,
Lights Up,
Lights Down,
Fan Speed Up,
Fan Speed Down.
The last row of buttons allows to you to select the Addressable Port number on the controller and change what that port does. You use this in conjunction with ARGB Mode 2.