EVGA Z390 Dark Motherboard Review
EVGA Z390 Dark Motherboard Review
Author:

Dennis Garcia
Published:
Monday, February 18, 2019

Board Layout and Features Continued
Overclocking and benchtop controls can be found scattered around the motherboard. Near the CPU socket you'll find the BIOS selector and slow mode switch. Between the two is a block of DIP switches for disabling individual PCI Express slots.
In the upper corner near the main 24-pin power connector you'll find Power, Reset and CMOS reset buttons along with a white USB port. This is for the BIOS Flashback feature for when you really screw up the board and cannot flash the BIOS normally. The BIOS SafeBoot button is the black one near the fan headers.
A feature that was found on the X299 Dark is the quad digit multi function POST indicator that will show POST codes while booting and then transfer to a CPU temperature display when complete. Quad digits allow for voltage display which is something I've never actually used.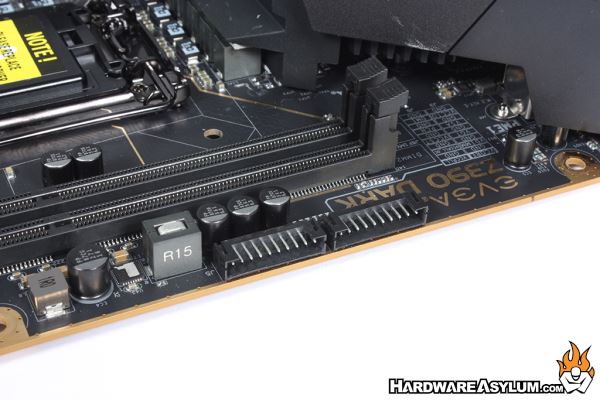 Speaking of voltage the Probelt headers are located near the VRM heatsink and will now report on twice as many voltages as before.
From left to right the function for the J3 connector: VCORE/Ground, VDIMM/Ground, VGT/Ground, VSA/Ground, and VCCIO/Ground.
From left to right the function for the J5 connector: VCCPLL/Ground, VCCPLL_OC/Ground, VCCST/Ground, PCH/Ground, and DMI/Ground.
Internal SATA connections number eight and follow the new SATA6 connection standard. Six come directly from the Z390 chipset and support RAID levels 0, 1, 5 and 10. An ASMedia port has been added for ports 6/7. These are a secondary controller that has been included so that older operating systems can be installed mostly for benchmarking support.
Two U.2 ports are also available for when those drives become available.
The Z390 chipset comes with 24 PCI Express 3.0 lanes and unlike the lanes coming from the processor the chipset PCIe are intended for connectivity and storage. You will find a total of two M.2 slots on the motherboard all with different key types for different devices. Be sure to install the drives correctly, they all have an up and down.