EVGA Z390 Dark Motherboard Review
EVGA Z390 Dark Motherboard Review
Author:

Dennis Garcia
Published:
Monday, February 18, 2019

Onboard and Included Features
The I/O panel is rather self explanatory and quite sparse for any motherboard. Starting at the left you will find the combo PS/2 port and two USB 2.0 ports next to that is on the board WiFi and a CMOS reset button. Dual Intel Ethernet i210V and i219AT sit atop four USB 3.1 Gen2 Type-A ports, You'll find another USB 3.1 Type-A and a Type-C after passing over a Mini DislayPort. Analog audio jacks complete the 6 channel audio offering with digital connections over optical.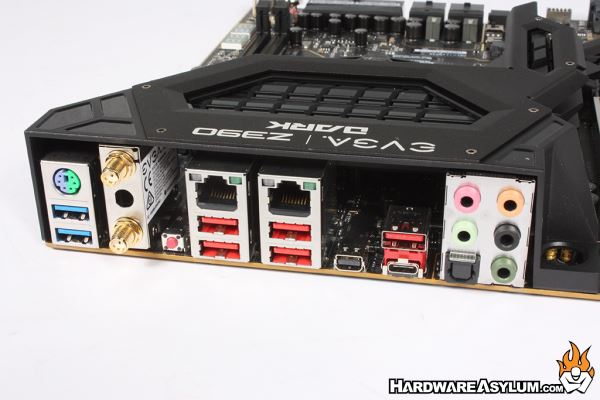 Onboard Audio
The audio solution found on the Z390 Dark is a new design featuring a Creative Core3D Quad-Core audio processor (CA0132) supporting 5.1 channel sound and is matched with the EVGA NU Audio application. Like most of the high-end gaming motherboards you'll find some specialized audio capacitors near the controller.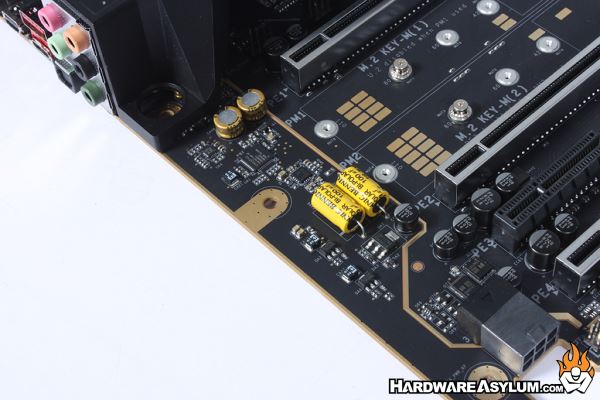 Sadly gone are the days of separated audio sections on the motherboard however EVGA is keeping it real by including a gold band where the separation would normally be located.
Included Goodies
One of the benefits to upgrading to a specialized motherboard is to get more features onboard and more accessories in the box. The EVGA Z390 Dark comes with a number of accessories including what you see below.
In keeping with the current NVIDIA trends the board only supports 2-Way SLI and includes a single SLI connector to match the custom length between the expansion slots. The other items include WiFi antennas, Probelt test leads, four SATA cables and some paper documentation. Drivers can be found on an included EVGA branded flash drive.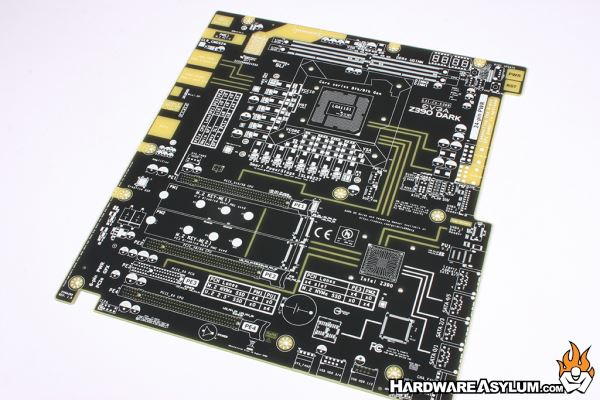 One of the coolest features of the Z390 Dark is the PCB bench table. This wafer doubles as a visual aid for all of the components on the motherboard with the added benefit of holding your motherboard during a benchmark session. Your expansion cards will be flopping in the wind but by golly the board will be supported.
There are longer standoffs included to convert the blank PCB into a table. Of course some assembly is required.
Missing Manual?
While I am all for progression there is something you may have noticed which is missing from the "kit".
Need a hint?
No printed manual! The manual is included as a digital PDF on the driver flash drive and currently not available on the EVGA website. This is likely an oversight but, still for a high-end motherboard like the Z290 Dark I find it difficult to understand why the push to go digital on the manual when it contains important information on the "First Boot" and reference data required to get the system working.
Just seems like EVGA spent so much time on the board and then didn't bother to include the proper documentation making the assumption that the user will already have a PC available.