EVGA Z390 Dark Motherboard Review
EVGA Z390 Dark Motherboard Review
Author:

Dennis Garcia
Published:
Monday, February 18, 2019

Introduction
While many of the tier one motherboard makers have abandoned factory supported overclocking you can still find hardware that supports it. Generally speaking this hardware always costs more due to the additional accessories and extra time building and testing that everything works as it should. Of course that is for mainstream hardware that you find on launch day and is where many companies stop.
To find hardware that is truly unique you must play the waiting game. This is what we did back in the DFI LanParty days where you would often wait six months for the new overclocking board to be released only to have a revision to that board come out a short time later. Those were the awesome times to be a hardware enthusiast and yet many were upset.
In this review I'll be looking at what might be considered the next best thing, the EVGA Z390 Dark. Much like what DFI did with their LanParty boards the EVGA Dark is what I would call a revision and enhancement of the EVGA Z390 FTW that improves and tunes the motherboard for extreme overclocking while still offering out of box performance for fans of high-end hardware.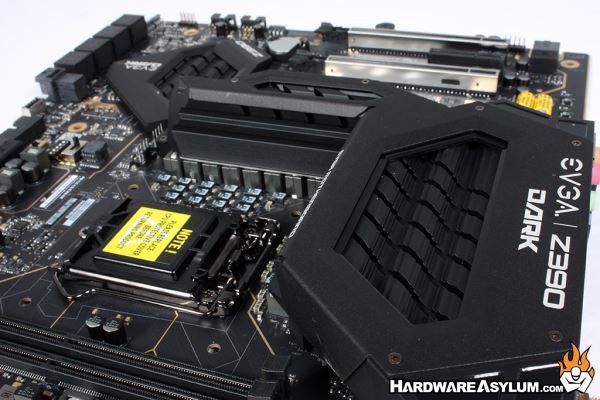 Before we dive into what makes this motherboard special lets go over the specs.
Specifications
Chipset – Intel Z390
SLI – 2-Way SLI
SATA – 6 Native SATA 6.0Gbps Ports / 2 ASMedia SATA 6.0Gbps Ports
RAID 0, 1, 5, 10
USB – 4x USB 2.0 (4 Ports from 2 Internal Headers)
Memory Support – 2 DIMM Dual-Channel (up to 32GB) DDR4 4600MHz+
Capacitors – 100% Solid State
Ethernet – 2x Intel® Gigabit NIC
Audio – Creative Sound Core3D Quad-Core Audio Processor
Display Outputs – 1x mDP
Fan Headers – 8 (2 CPU PWM, 6 PWM/DC)
PCB – 10 Layers
PCI-E Slot Arrangement – 3x16, 1x4
NVMe Support – Yes (PCIe)
Form Factor
E-ATX Form Factor
Length: 11.99in - 304.5mm
Width: 10.89in - 276.6mm
Key Features
150% Increased Socket Gold Content
Creative 5.1 Channel HD Audio + EVGA NU Audio
Dual EVGA Probe-It Connectors
EVGA E-LEET X Tuning Support
EVGA's Latest GUI BIOS Featuring OC Robot and In-BIOS Stress Testing
Highly-Efficient 17 Phase Digital VRM
Intel® Optane™ Memory Ready
New Integrated EVGA Wireless Module with Intel Dual-band WiFi / BT5.0 with external antenna
Onboard Clear CMOS, Power and Reset Buttons
Onboard Temperature and Voltage Monitoring
Reinforced PCIe slots
SafeBoot button to reset the motherboard and go into the BIOS with last known good settings without clearing CMOS
Slow Mode switch locks CPU multiplier to lowest possible setting to allow users to switch between max OC and low speeds in real-time.
SPI flashing via USB allows you to flash your BIOS without a CPU
Triple BIOS Support
That is a huge list of features to digest so take your time and click the "Next Page" button when you're done. Done? Great click away!