Gigabyte G1 Sniper A88X Gaming Motherboard Review
Gigabyte G1 Sniper A88X Gaming Motherboard Review
Author:

Dennis Garcia
Published:
Monday, October 07, 2013

Board Layout and Features Continued
Internal SATA connections number eight and for once all of the connections follow the new SATA6 connection standard direct from the A88X chipset. Something that is a little interesting here is that six SATA connections actually come straight off the motherboard like they did "in the old days" with only two using the modern 90 degree block.

There are a total of four fan headers on the G1 Sniper A88X. The first is the standard CPU fan header located at the top of the motherboard followed by two 4-pin PWM system headers near the PCI Express slots. The final fan header is a standard 3-pin located near the 24-pin power connector. You won't have a ton of onboard fan options but you do get enough to control an AIO watercooler and a few case fans.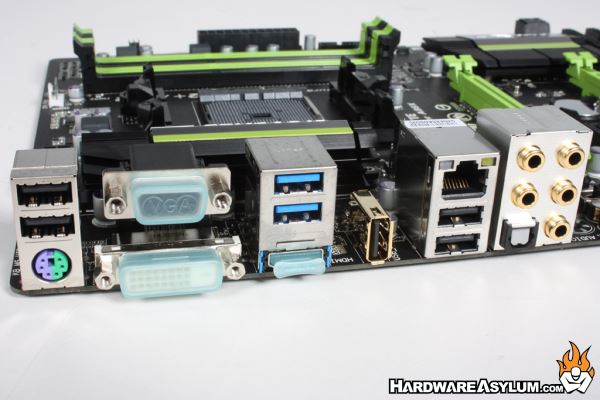 The I/O panel features many common connections and a whole lot of gold. Along the panel you will find a single PS/2 Keyboard and Mouse port, four USB 2.0, two USB 3.0 and a single gold plated USB 2.0 For DAC connections. There is a single RJ-45 network connection, digital audio over optical, and five gold plated analog audio connections for multi channel sound. Video connections are made possible over D-SUB, DVI-D and HDMI.
Included Goodies
Not suprising you will only find a minimum of accessories included in the box including manuals, driver disk, cables and I/O shield. There is very little need for anything else and with fewer the items means lower cost.