Gigabyte G1 Sniper Z87 Motherboard Review
Gigabyte G1 Sniper Z87 Motherboard Review
Author:

Dennis Garcia
Published:
Monday, February 17, 2014

Onboard Audio
Like on previous G1 motherboards there has been considerable effort spent on the onboard audio processor. The processor found on the Sniper Z87 is a new design called the Gigabyte Amp Up. Amp Up is an interesting design centered on a pluggable IC called an OP-Amp module. Controlling the audio signal is done through the system drivers while the OP-Amp module will tune the sound to your preferences.
Gain boost can be controlled with the onboard switches in stages of 2.5x and 6x amplification depending on the speakers and headphones you happen to be using.
The configuration of the audio processor is similar to previous designs including the Nichicon Pro Audio Capacitors and gold plated connections. The metalized noise guard has been replaced with a physical void in the PCB to electrically separate the audio processor from the rest of the motherboard.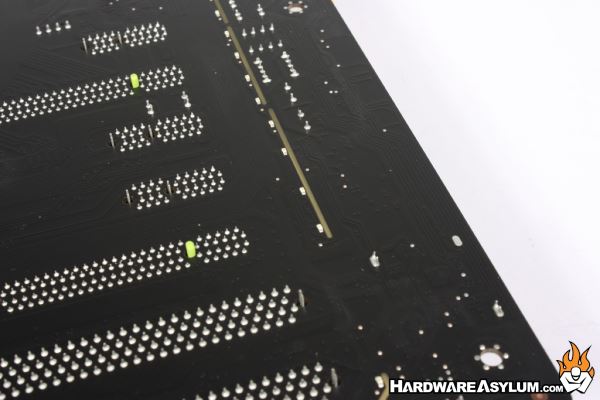 Separating the components can provide a cleaner audio signal similar to what you get with an expansion card without having to physically plug anything in. Holding the motherboard up will illustrate this separation and for some added bling when the system is operational green LEDs located on the backside of the motherboard will shine thru the PCB layers.