Gigabyte 990FX Gaming Motherboard Review
Gigabyte 990FX Gaming Motherboard Review
Author:

Dennis Garcia
Published:
Tuesday, June 21, 2016

Board Layout and Features
The 990FX Gaming motherboard layout has changed considerably to better align the motherboard with current trends in the gaming sector. Gone are the multitude of 16x PCI Express slots in favor of two for video cards and one full length slot for general expansion. Given that very few gamers run one of two video cards the layout can be opened up to support the new and exciting stuff.
Looking at the back of the motherboard we can get an indication as to how the PCI Express slots are wired and determine which slots are primary and secondary in terms of bandwidth. This motherboard is very clean with no surface mounted components and a few screws for the chipset heatsinks.
On the 990FX-Gaming you will find a rather large 10 phase VRM to power the CPU and memory. This is accompanied by an oversized VRM cooler which is connected to the other heatsinks on the motherboard. AMD systems tend to run hot so having a large heatsink is a must for the best performance.
Behind the PWM cooler you'll find the CPU Power connection made up of a single 8-pin connector. The VRM cooler has been notched to allow cable access and given the location the cable should be easy to hide in any modern chassis. Despite being close to the I/O panel there is still room to remove the power plug.
Dual channel memory comes standard on the AMD FX and the 990FX supports standard speed DDR3 modules up to 2000Mhz when using an AM3+ CPU. Older AM3 processors will run at 1600Mhz and are locked at that speed unless changed with BCLK adjustments.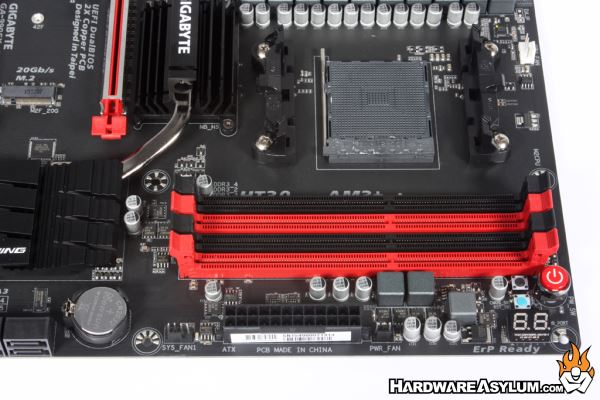 AMD systems have always required a little more voltage to run properly so be prepared to make some stability tweaks when building your system with "modern" DDR3 modules intended for Intel platforms.