Gigabyte 990FX Gaming Motherboard Review
Gigabyte 990FX Gaming Motherboard Review
Author:

Dennis Garcia
Published:
Tuesday, June 21, 2016

Board Layout and Features Continued
Internal SATA connections number six and follow the new SATA6 connection standard. There are no SATA Express ports but you do get software RAID support for RAID 0, RAID 1, RAID 5, RAID 10 and JBOD.
One of the new features you will find on the 990FX Gaming and other refreshed 900 series motherboards is the inclusion of an onboard M.2 PCI Express SSD slot. The unfortunate thing about M.2 devices is that they often need to be qualified and supported by the mfg so, be sure to check the Gigabyte website for a supported list of devices when planning your build.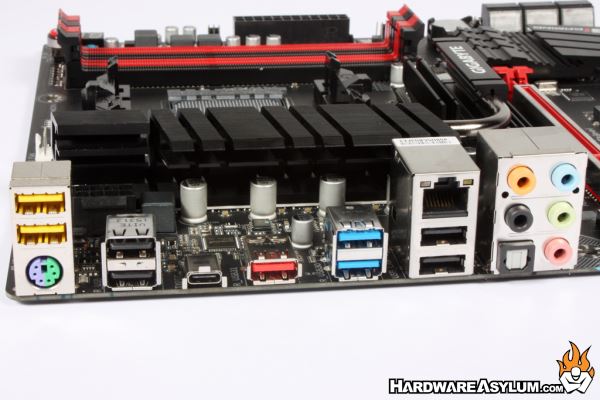 I am often amazed at the variety there is between motherboard I/O connections. Some boards come packed with connections while others are a little sparse. The 990FX Gaming falls into the latter category. Here you will find a single combined PS/2 keyboard and mouse plug, one USB Type C, one USB 3.1 (red), two USB 3.0 ports (blue), six USB 2.0 ports (black/yellow) a single gigabit Ethernet connection using the Killer Networks E2201 controller and 8 channel analog audio with digital connections over optical.
Onboard Audio
The Gigabyte 990FX Gaming equipped with the exclusive AMP-UP Audio Technology powered by a Realtek ALC1150. With Gigabyte AMP-UP Audio, gamers and audiophiles are able to experience crisp, ultra realistic sound effects while gaming, and the richest possible sound experience.
Like on previous motherboards the onboard audio is constructed on an electrically separated section of the motherboard to reduce EMI and offer the best chance at good audio reproduction. Both the Killer Networks and Amp-UP controllers are covered in decorative metal shields to further protect the chips from interference and clean up the design.
Included Goodies
Gigabyte has included everything you see below which includes four SATA6 cables (with locks), SLI bridge and I/O shield.
The user's guide is very well written and covers all of the components found on the motherboard and is a great resource that documents many of the high-end features found on the 990FX Gaming.