Gigabyte 990FX Gaming Motherboard Review
Gigabyte 990FX Gaming Motherboard Review
Author:

Dennis Garcia
Published:
Tuesday, June 21, 2016

Conclusion
As a hardware reviewer it is difficult to get excited over old hardware and while my enthusiast roots cringe whenever anyone suggests an AMD build even though I know the CPU can play "some" of the latest titles and for the most part still very affordable. The biggest problem with AMD builds wasn't so much the CPU but finding a suitable motherboard. It would seem that is no longer an issue.
In this review we looked at the Gigabyte 990FX-Gaming. This is a refreshed motherboard built on the AMD 990FX and designed for gaming. Given that most users looking at AMD are doing so with budget concerns there are three other motherboards to consider including the 990X-Gaming-SLI, 970-Gaming-SLI and 970-Gaming. Each board comes with a similar set of features including M.2 SSD support, upgraded audio and in most cases SLI and Killer Networks controllers.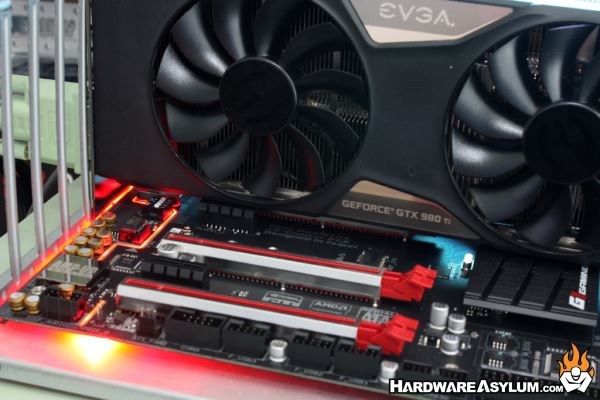 The Gigabyte 990FX-Gaming performed as expected with solid performance and good memory support. In this review I tested the motherboard with two different AMD processors to keep the numbers fair.

The first was an AM3 Phenom 1090T which has been in the Hardware Asylum Labs for quite some time and the second being the 220W FX-9590 8 Core monster. As you would expect the 1090T is down on power when compared to the newer AM3+ platform but would overclock well on the 990FX-Gaming sorting a 250Mhz BCLK without issue.
On the other hand the FX-9590 is already extremely fast with a turbo feature taking it to 5Ghz and despite my efforts I had issues getting the CPU to overclock and remain stable. I suspect this was due to the CPU is already being at the upper limits and needing something a little more extreme (LN2) to make it go faster.
Of course raw performance in a modern PC game doesn't come from the CPU but the video card and external connections. For this it is important to note that the 990FX-Gaming supports SLI and AMD Crossfire giving you a good way to increase video performance without needing a top of the line CPU. The motherboard also comes with a variety of modern features including USB 3.1 and USB 3.0, M2. SSD support. Combine those with a Killer Networks E2201 controller that can offload network cycles and the versatile Gigabyte AMP UP audio system and you have a rather efficient motherboard for all your AMD needs.
Good Things
USB 3.1 Type C
USB 3.0
Onboard M.2
AMP-UP Audio
SLI Support
Killer Networks Controller
Large Motherboard Heatsink
Bad Things
Hardware Asylum Rating