Gigabyte 990FXA UD5 Motherboard Review
Gigabyte 990FXA UD5 Motherboard Review
Author:

Dennis Garcia
Published:
Friday, July 01, 2011
Introduction
Building your own computer has always been a daunting task as it requires a basic knowledge of computer hardware and at least knowing what components are compatible with each other. In the recent past your buying decision could have been driven by video card support. For instance, if you wanted to run NVidia video cards in SLI you would be limited to only Intel systems that supported the technology. AMD Crossfire on the other hand was supported on both Intel and AMD platforms making it a logical choice for enthusiast builders on a budget.

In this review we will be looking at the Gigabyte GA-990FXA-UD5 which is a mid-level motherboard supporting the latest AM3+ processors. As the name indicates the board is based on the new AMD 990FX chipset. The new chipset is designed to support the new AMD FX "bulldozer" processors along with NVidia SLI.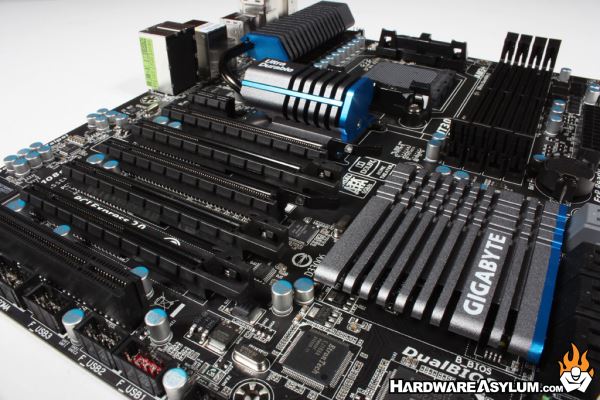 Motherboard Specifications
Support for Socket AM3 processors: AM3+ FX processors / AMD Phenom II processor / AMD Athlon II processor
Chipset: AMD 990FX / AMD SB950
Memory:4 x 1.5V DDR3 DIMM sockets supporting up to 32 GB of DDR3 2000(OC)/1866/1333/1066 MHz memory modules
Support for 2-Way/3-Way AMD CrossFireX and NVIDIA SLI technology
Realtek 8111E chip (10/100/1000 Mbit)
SATA 6GB / eSATA / RAID 0, 1, 5, 10, JBOD
14 USB 2.0/1.1 / 4 USB 3.0 / 2 IEEE 1394a ports
ATX Form Factor; 30.5cm x 24.4cm
Please consult the
Gigabyte website
for a complete list of specifications, drivers, and latest BIOS files.