Gigabyte 990FXA UD5 Motherboard Review
Gigabyte 990FXA UD5 Motherboard Review
Author:

Dennis Garcia
Published:
Friday, July 01, 2011
Conclusion
It has been quite some time since we last reviewed an AMD enabled motherboard and much to our surprise not much has changed. Granted the processors have gotten more powerful and they overclock better however none of that can be realized if your motherboard cannot unlock all of that potential.

The Gigabyte GA-990FXA-UD5 comes with a standard layout for a modern motherboard supporting 2 banks of dual channel DDR3 and multi GPU configurations up to 3 cards. Our Multi GPU Index for this motherboard is extremely good and the ability to run both AMD Crossfire and NVidia SLI makes the platform extremely versatile.

A few new features unique to the AMD 990FX chipset include 42 PCIe lanes with 32 of them being dedicated to graphics alone. These lanes can be divided up into dual, triple and quad card configurations depending on what the manufacture decides. In the case of the GA-990FXA-UD5 the two topmost slots run at full 16x lane bandwidth while the remaining slots share 4x and 8x lanes respectively. Another feature is support for the new SATA drive standard called SATA6. While only a handful of drives exist with a SATA6 controller the support alone is enough to get any enthusiast excited.

Overclocking on the 990FXA-UD5 was rather straight forward and once we remembered what was needed to make a Phenom clock we were off and running. Of course a Black Edition processor helps in the tweaking process but for those of you running retail CPUs it is important that a motherboard support high HyperTransport speeds. For our overclocking tests we could not run at 300HT but 250HT proved to be quite stable. The lower HT is not a problem when using a Black Edition processor however locked CPUs will be limited in their overclocking ability.

Good Things
Great motherboard styling
6 Core AMD Support
Core Unlock Feature
USB Charge Option
3-Way Crossfire
3-Way SLI
Decent Motherboard Cooling
Support for 5 Video Cards

Bad Things
Found HT limitation approaching 300Mhz HT
No debug LED
No onboard pwr/rst/cmos buttons
Ninjalane Rating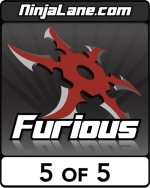 Gigabyte 990FXA UD5 Motherboard Review
Furious 5 of 5
https://www.hardwareasylum.com