Aorus B660M Pro AX DDR4 Edition Micro ATX Motherboard Review
Aorus B660M Pro AX DDR4 Edition Micro ATX Motherboard Review
Author:

Dennis Garcia
Published:
Monday, June 20, 2022

Onboard and Included Features
The I/O panel is always an interesting part of the motherboard as it dictates what connectivity options will be available. Starting at the left we have four USB 2.0 ports followed by two WiFi antenna connections. You will find a total of five USB 3.2 ports along with a single Type-C connection. A single Display Port and HDMI handle the onboard video while a 2.5G Ethernet connection can handle the network.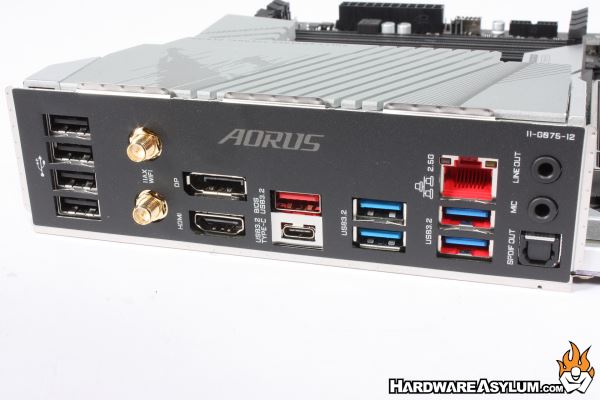 Audio is the next major deviation with this design. Gone are the analog audio connections with only a single microphone and line out handling the audio. Of course, there is an optical connection but, I have yet to find ANY computer centric audio system that would use it.
It would seem that we might finally be getting away from onboard audio as more and more users have resorted to USB audio solutions including both speakers and headphones making the analog audio plug a thing of the past.
Unfortunately, we have had analog audio for so long that, this single change will likely become a major decision point for users looking to upgrade.
Onboard Audio
Despite the lack luster audio connections the board does feature the Realtek CODEC with two channel analog output and 7.1 using the digital signals. Unlike other Aorus Gaming motherboards the audio components are fully exposed.
There does appear to be an audio separation layer indicated by the tan line. This HD audio implementation appears to be a single chip solution with a few gold filter caps nearby.
Included Goodies
The Aorus Gaming B660M Pro AX DDR4 motherboard comes with everything you see here. I'm not sure if it the advent of super fast M.2 drives or a cost cutting measure but I seem to remember motherboards coming with more accessories in the past. In a way It was a badge of honor and a reward for paying extra but, it seems these days the included goodies package has been reduced to almost nothing.
I am pleased to say that along with the two SATA cables and WiFi antennae you will get a full user's manual and NO driver disk??